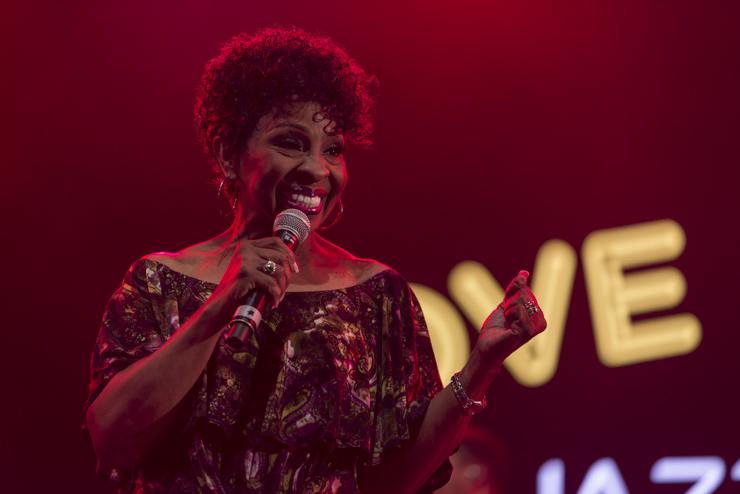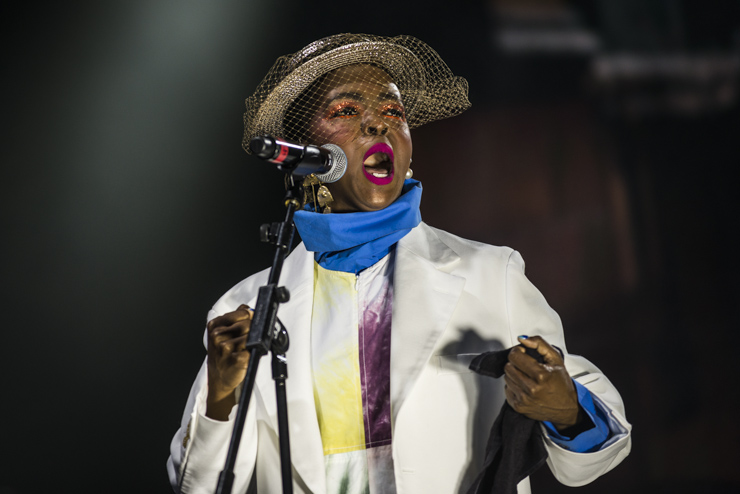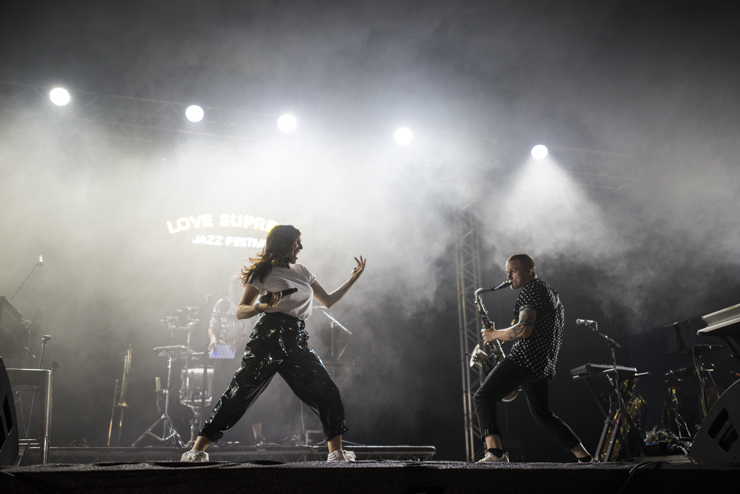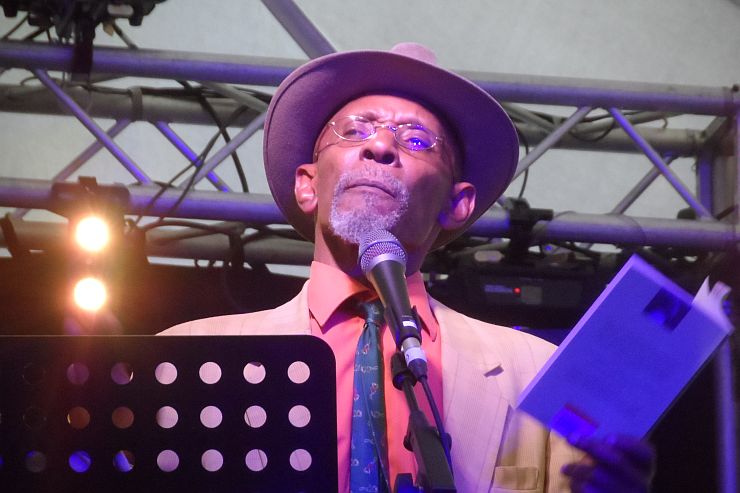 Whereas most successful festivals just get bigger, Love Supreme has increased the number of stages and introduced more variety rather than just squeezing in more punters. The traditional Friday night bedding-in club nights now included live action from festival favourites GoGo Penguin, while the Bands & Voices stage had a fuller line-up featuring big hitters such as Linton Kwesi Johnson.
The two main days offered many highlights, with Saturday's gorgeous sunshine making it extra special. Those arriving early were greeted by Skinny Pelembe's blissed-out beats and a full house saw Louie Vega discuss his fascinating career with Jez Nelson and Elements Of Life bandmate Josh Milan from legendary 90s house outfit Blaze. They went on to wake up the main stage with a set of original and classic soul dancers, including a perfectly-timed cover of Roy Ayers' 'Everybody Loves The Sunshine' and a stunning 'I Am The Black Gold Of The Sun'. Likewise, reggae/ska legend Jimmy Cliff's joyous greatest hits set had the crowd dancing along with him, although he appeared frail when he came out to greet fans afterwards.
Norwegian jazz-pop outfit Fieh brought fun party sounds but Judi Jackson was a revelation, looking and sounding amazing. Her energy and gospel-tinged soul funk set showed a star in the making, as she wowed the audience. Sons Of Kemet's tuba colossus Theon Cross's own band slowly built up from body-shaking, down and dirty grooves to a tumultuous finale that had the crowd dancing and cheering.
It felt like there were more stage clashes this year with the timings going a little out-of-sync, making it difficult to get to everything on an already tight schedule, but there was no shortage of alternatives. There was no hope of getting in to see Chick Corea but this allowed the rare treat of witnessing a Linton Kwesi Johnson performance. This captivating man with his mellifluous voice and perfectly timed delivery held the audience rapt with powerful poems such as 'Reggae Fi Dada', humbly shooing away the rapturous applause.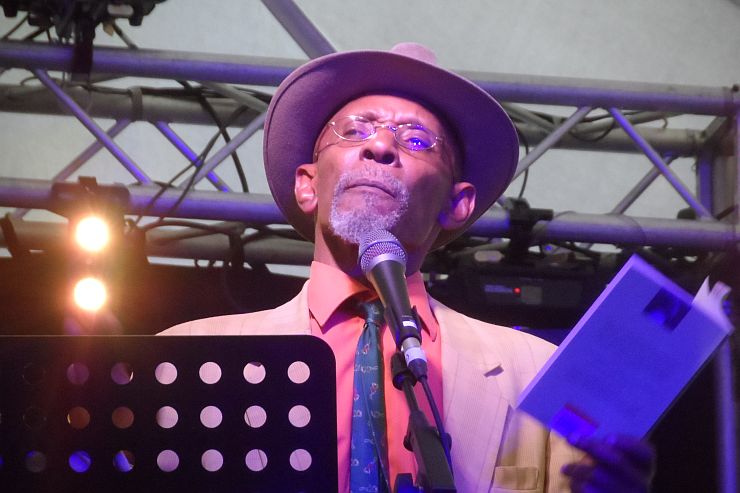 With Aretha gone, Gladys Knight must surely hold the crown as the Queen of Soul and her performance to close the main stage was a tour de force. At 75, she looked and sounded as fantastic as she did in her heyday, with a superb band that delivered hit after hit, turning the whole main stage into a huge 70s disco. She ended in true showbiz style by pretending to exit the stage before shouting "we can't leave yet!" then launching into an anthemic 'Midnight Train To Georgia'.
The overnight rain and drab weather didn't hamper the spirits as we were lucky to catch the end of Terry Pack's Trees' groovy flute and vocal chorus final piece in their traditional Sunday morning bandstand slot. 21-year-old Tara Lily showed great promise with her scat skills on 'Love For Sale' and Chicagoan trumpeter Marquis Hill's Blacktet were both gentle and thrilling as they performed selections from their 'Modern Flows Volume 2' album.
Alicia Olatuja showed off her operatic range with a rich voice in a Dianne Reeves vein, while Tenderlonious's Ed Cawthorne showed his incredible breath control on soprano sax and flute that combined straight-ahead bop themes with Metalheadz rhythms. Leee John from 80s soul-pop trio Imagination may not have seemed an obvious choice for a jazz festival but his falsetto voice and many hits went down a treat as did Charlotte Dos Santos' Minnie Riperton-style funky selection that included a gently wafting 'Red Clay'.
There was a mix of styles and politically-charged banter from Madeleine Peyroux as she ran through songs from her excellent 'Anthems' album. Joe Armon Jones kicked off with 'Mollison Dub' and 'Ragify' from his debut album and the packed Arena crowd lapped it up. His skilful, free-flowing solos drove and enhanced a new band that featured fellow Ezra Collective alumni James Mollison on sax. This was a fierce set of contemporary dance music by a group of musicians intent on moving the scene forwards.
A great collaborator on his recordings, drummer Makaya McCraven lead his quintet with great power and dexterity as the guitarist and Rhodes players jammed with each other in a highly technical performance while on the main stage the festival closer Lauryn Hill shook off her Glastonbury gremlins with selections from her classic 'Miseducation' album. With her backing singers forming a gospel chorus, there were powerful versions of 'To Zion' and the titular track plus an appearance from 10-year-old dancer Princess K during 'Doo Wop (That Thing)'. Her voice was on form throughout, despite some strange musical arrangements, and the three-song encore ended with a pair of singalong Fugees' hits.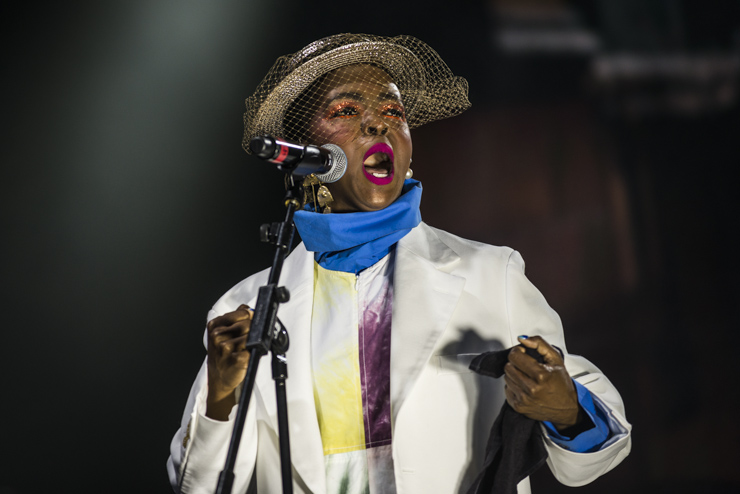 As with previous years, there was an excellent selection of world-class music on offer with punters often spoiled for choice, but safe in the knowledge that a short walk to another stage could be rewarded with an alternative, exhilarating performance. Another great success, long may it continue.
Love Supreme Festival, Glynde Place, 5th - 7th July 2019
Photos by Fran Moore