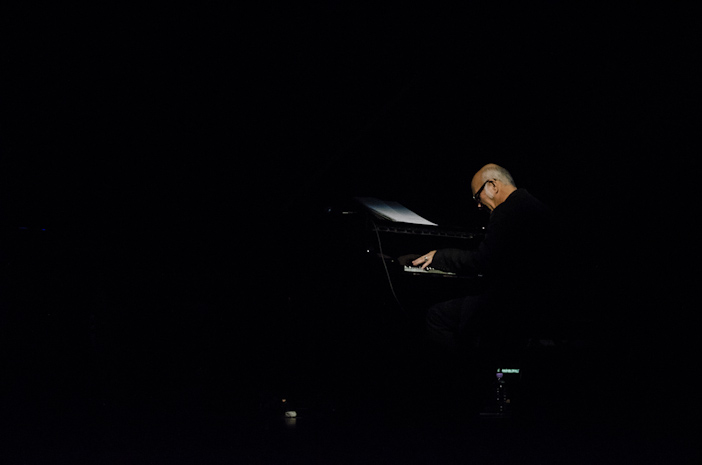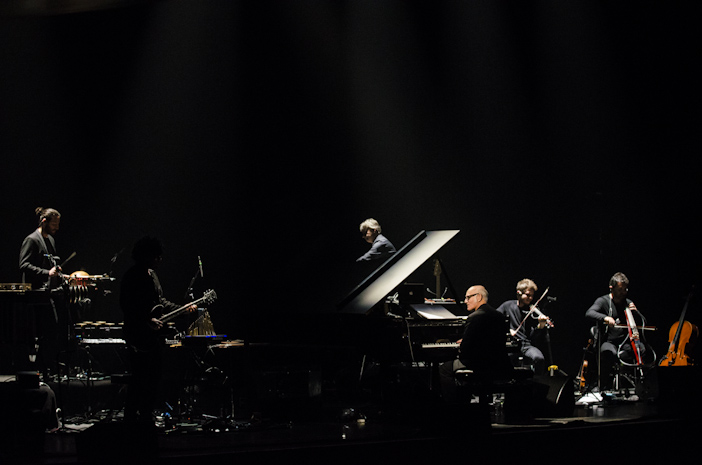 For an eagerly awaited performance of the much loved Italian pianist and composer, Ludovico Einaudi's arrival was ritualised and awe-inspiring. Dressed head to toe in black, he and his entourage of five musicians took to their positions on a dark and dimly lit stage with no address to the crowd. And breaking a stark silence, they got straight down to business.
The first half consisted of works from Einaudi's latest recording 'Elements', released October 2015. The pieces were an expression of his richness as a composer, and as a pianist, where very often the piano was married to a powerful and emotive strings ensemble of cello and violin. This was evident on the title track, which was accompanied by fist pounding percussions. In contrast, 'Song For Gavin' – written as a tribute to friend and This Is England collaborator Gavin Clark, who died unexpectedly just over a year ago – was a solo piano piece.
With very limited lighting, spotlights illuminated each musician in turn, and for the first three pieces a dark and graphic backdrop of moving elements evolved behind them. "For months I wandered in a seemingly chaotic mix of images, thoughts and feelings. Then, gradually, everything came together in a dance, as if all the elements were parts of the same world, and myself within it" are Einaudi's words describing the making of his new album.
Einaudi performed facing directly away from us, strings and synths to his and our right, percussion and guitar to the left. His band's individual talents shone in the spotlight, quite literally, and failed to be musically overshadowed by the piano, as you might expect.
Einaudi's position on stage might have seemed strange, but it's to his credit that he was conducting his band throughout the performance, often with his left hand raised and his right hand on the keys. There were times when the music was so acutely synchronised with a gentle melodic ambience and long pauses, that his attention needed to be directed towards his band who were clearly attuned to one another. They all played as one, and it was startling.
The first half ran continuously and whilst we grew more familiar with the piano maestro's nape, when the audience met each completed piece with rapturous applause he'd turn his head to the side and listen; smiling, as if humbled by his own abilities. After eight continuous songs in the first half Einaudi finally stood facing the audience. Illuminated in the spotlight he placed his hand on his heart with gratitude.
The second half saw Einaudi play more familiar pieces from his back catalogue; 'I Giorni' ('The Days') and music from film scores such as The Intouchables. Pauses within songs were still long and the band was tight. At times the hum of the air-conditioning and every twitch or splutter of the audience was unwelcome. The lighting was spectacular, with visuals, strobes and lasers that wouldn't look out of place at an electronica stadium show for Jean Michel Jarre or The Chemical Brothers. Einaudi's renowned for being experimental, and this could be seen by the use of modern percussion instruments such as the Waterphone – not to be confused with the tank of water on stage that had a sheet of metal manually suspended in it to be played with a timpani mallet like a powerful warbling gong. The whole evening was spectacular, and very well considered; visually rewarding and subduedly performative and as with all of Einaudi's music a delight to absorb.

Met with a well deserved standing ovation, Einaudi's first and only words of the evening "Thank you Brighton" came at the end of the performance and before two encores, when he introduced each member of what's become known as "Ludovico's band"; Federico Mecozzi – violin, guitar keyboards, Redi Hasa – cello, Alberto Fabris – live electronics, bass, synth, Francesco Arcuri – guitar, waterphone, percussion and Riccardo Laganà – frame drum, percussion, vibraphone. We might have liked to hear more words from him, but then that might have interrupted the flow of such a meditative performance.
Ludovico Einaudi's two nights at the Dome are a complete sellout, as is the whole of his March 'Elements' tour. And seeing as he made history with this album – becoming the only classical pianist to reach the top 15 of the UK album charts – it doesn't come as a great surprise.
We witnessed something very special tonight. Thank you Ludovico's Band. Thank you, Einaudi.
Brighton Dome, Friday 11th March 2016
Words and photos By Francesca Moore