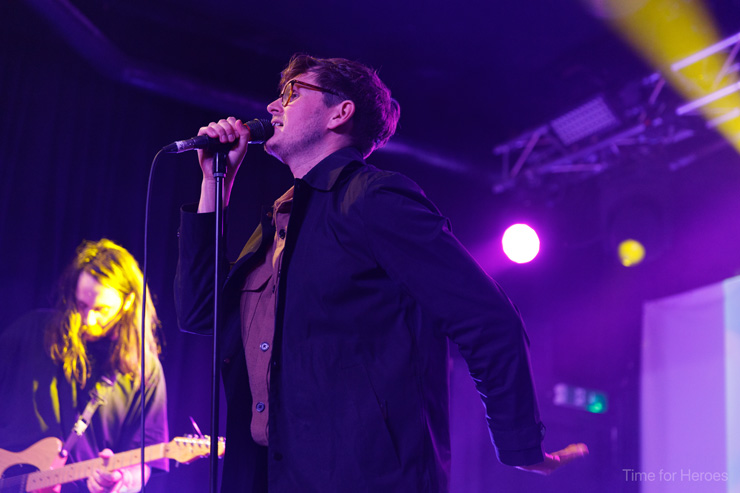 Mutations Festival made a welcome return to spread a little sunshine to an otherwise murky November. Now in its third incarnation, the multi-venue festival was once again lovingly curated by Brighton's One Inch Badge. SOURCE headed along to catch the action. And if our band-to-photo ratio seems a touch disjointed for this review, please excuse us, as our planned writer caught COVID the day before. Big thanks to Ben Miller for stepping in at extremely short notice!
AK Patterson, Patterns
In their final gig of 2021, Alex Patterson and her bandmates' intense, orchestral rock suggests that, six years after their formation, they are not about to settle into a comfortable groove. The muse-like lead singer strains as she sings, creating mysterious, dark and emotion-filled melodies with an eerie, unnerving quality to them. Classically-trained accomplice Alfie Weedon provides striking, deftly-plucked strings on his double bass, and the involvement of an evidently expert cellist, Nat Reading, adds to the air of baroque theatricality. At times, Patterson is seemingly oblivious to the world around her – a persuasively forceful show of escapism that acts as an invite to the audience to follow suit. (BM)
Someone, Latest Music Bar
Dutch singer Tessa Rose Jackson has spent about two years of her decade of sharp songwriting as Someone, leading a guitar-led trio making wistful dream-pop that does not shy from politically topical themes. Jackson's beautifully delicate vocals and ability to succinctly pack a lyrical punch make for an absorbing live show in front of an increasingly tightly packed house, and the precise construction of her songs give away the judicious composer's parallel talent as an accomplished visual artist. Her joy at being able to perform live on a more frequent basis this year is clear, and is as charming as an anecdote in which she imagines her mother fulfilling the duties she enjoys when she critiques her daughter's performances from the audience. Songs from album 'Shapeshifter', which was released two months ago, combine comforting, folky arrangements with lyrics that accurately articulate a struggle to find peace in a confusing world. (BM)
Willy Mason, Patterns
Although he's a mean mid-performance wit, Willy Mason keeps his head down and his set moving, clearly keen to pack as much into the time limitations of a festival slot as possible. The title track of this droll, bearish folk-indie poet's new album, 'Already Dead', sounds resigned and defiant that the worst has already visited, and the warmth of the natural storyteller's husky vocals and delivery make him a spirit-raiser even when he might not intend to be. Better still, there's a palpable chemistry between Mason, boyish bassist Mike O'Malley and drummer Charlotte Anne Dole, whose ceaseless expressiveness is as entertaining as the craft the trio possess. Two songs written by the young veteran in the mid-2000s, 'Oxygen' and 'We Can Be Strong', remain instantly uplifting for his crowd and a reminder of Mason's specialism in precisely hitting upon unifying emotions via sparse songwriting. (BM)
This Is The Kit, Chalk
In a line-up not short on showmanship and one-liners, Kate Stables arguably proves the most popular performer between songs at Mutations. That might sound an irrelevance or an act of damning with faint praise without the fact that the openness of her approach – she acknowledges mistunings with a comedic verve and offers wry self-analysis almost throughout – perfectly accommodates and persistently premeditates the enchanting, psychedelic folk looseness of This Is The Kit. Backed by a band who start again when she missteps, you believe in Stables' message when she sings "forward is the doing / keep going" because of her accuracy in assessing the complexities of living. When she catches herself wondering at the exit signs in the venue or the availability of two beers in a single cup, you can see, in an almost real-time snapshot, how Stables traces the minutiae of the world. (BM)
Friday
Hotel Lux, The Old Market
Hotel Lux's Lewis Duffin is understandably reluctant to be defined by his background, but he sets the tone for three headliners on Friday who all give distinct voices to stories of the working class. Duffin takes on bleak subject matters – a halfway house for prisoners in Portsmouth on 'Daddy', an executioner responsible for killing hundreds of people during the early 20th century – in an occasionally brutal outpouring of emotion.
There's subtlety behind the rawness, too: Craig Macvicar's drums change from jazz-ish set-ups of tension to full-on punk at their most unbridled, and three guitarists combine to create a mournful, confrontational clatter. Duffin, in a green jacket and white shirt, stays transfixed at the centre, veering from anguished howls to indifferent purrs. On their second UK tour almost two years after their first, you can sense the satisfaction at being out again from a band with swaggering live energy. (BM)
Billy Nomates, The Old Market
It's not often we get massively excited about a show performed from a laptop – maybe it's just our personal experience, but bad karaoke has been our main association over the years. Anyway, no such concerns here. Billy Nomates is all energy, bounding across stage, half-deadpan, half-impassioned in her delivery. 'Heels', 'No' and 'Hippy Elite' were all set highlights, and the kind of tunes that definitely stay to linger. (AL)
Baxter Dury, The Old Market
Saturday
Pillow Queens, Patterns
Porij, Chalk
Sink Ya Teeth, Chalk
Yard Act, Chalk
Yard Act's rapid rise as kings-of-the-car-boot-sale / indie underworld saw them justifiably labelled as the hype band of the festival. With an appearance scheduled later that night on Jools Holland ("Mum, we've made it"), Yard Act were every bit as funny, anthemic, and arguably, as divisive as you may expect.
It's been less than a year since the Leeds four-piece released 'Dark Days', the follow-up from debut single 'Fixer-Upper', and these tunes are both well-established crowd favourites. Their pin-sharp satirical lyrics, combined with a knowing, extremely-dry sense of humour has been enough for us to have them on play for months. Endlessy. Repeating. We love them, and can't wait for their February show at Patterns. (AL)
Working Men's Club, Chalk
Using a barrage of colossal guitars and echoey vocals as their go-to tactic, Yorkshire-formed Working Men's Club play with an extraordinary, thrilling energy, befitting of a band who released their first album last year and have a teenage frontman in Sydney Minsky-Sargeant.
Despite clear debts to a litany of post-punk, synth-pop and wantonly surreal lyricists including Joy Division, The Fall, Gang of Four and Human League, Minsky-Sargeant avoids becoming a mere nostalgia act through a new kind of industrial-sounding bleakness that keeps the dancefloor moving almost as much as he does. Accomplices Rob Graham, Mairead O'Connor and Liam Ogburn seem the coolest people in the room during a brutally lean performance, leaving Minsky-Sargeant to scowl playfully at the crowd, crouch down, gurn and rise to let out a squawk on 'A.A.A.A.', with its suitably provocative prevalent lyric of "is this enough?" Then his black t-shirt comes off and gets slung around the back of his neck for the glorious, bleep-laden pop of 'John Cooper Clarke'. Even with his precocity, few could contort like a possessed elf and remain composed enough to twiddle switches. Minsky-Sargeant does, and you suspect he's just getting started. (BM)
Sunday
Beak, Chalk
Ringleader Billy Fuller performs a pitch-perfect grumpy-old-man act at the heart of Beak's pleasingly odd compositions, taking aim at Roger Daltrey ("he owns a f*cking trout farm") while telling bad jokes and being almost constantly self-effacing. That approach comes in use when he breaks a string almost immediately, a misfortune that does nothing to detract from watching the trio's trickery via a succession of rolling, rhythmic Can-esque drums, delayed bass effects and out-there keyboard lines and riffs. Most of the songs they choose to play are from their most recent album, 2018's '>>>', from which opening track 'The Brazilian' gains added supervillain drama with the guitars intensified. In a brief departure from their cinematic intensity, a brief and damning excerpt of Reef's 'Place Your Hands', making the Britpop hit sound like the work of caveman via only the slightest of exaggerations, is perhaps the funniest interlude of the festival. (BM)
Mutations Festival, Various Venues, 4-7th Nov 2021
Words by Ben Miller & Ashley Laurence
Photos by Time for Heroes