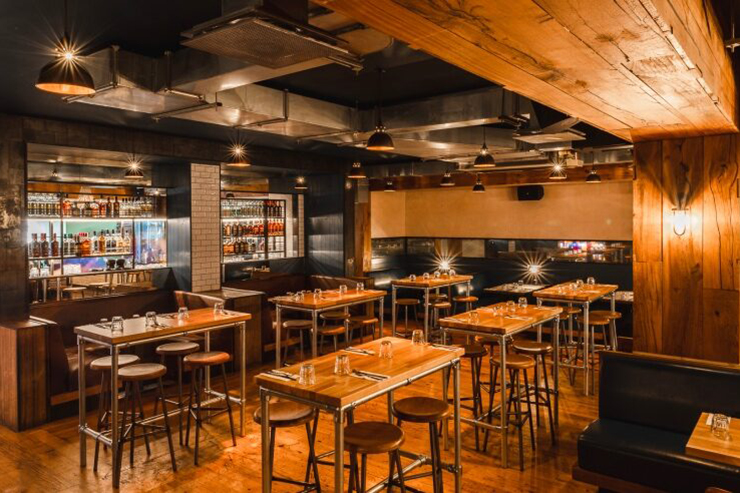 We get some idea of what Rum Kitchen's vibe will be like when we notice its other locations are Shoreditch, Soho and Brixton. Young, cosmopolitan, clubby, fun.
And this one's address — on Black Lion Street, where Jamie's Italian used to be — is an ideal spot to pick up footfall from the seafront and the Lanes, while avoiding much of the lager-fuelled chaos of West Street.
First impressions are that it's nicely kitted out, pleasingly lit, large and loud. Initially, the majority of the volume is coming from the DJ dropping urban, dancehall-infused beats (which get a little more commercial as the place fills up but never fall into cliché). However, the level is kicked up to 11 when a whooping work do arrives. We're used to whooping at a gig, but why would you whoop at a restaurant? Must be the jerk sauce effect, but more on that in a minute.
The seating is a mash-up of long tables, tall stools and comfy booths. We choose the latter and get stuck into the satisfyingly simple menu: Caribbean food on one side; rum cocktails on the other. Yes, cocktails are a big thing here… or should that be a big "Ting", as in the fizzy grapefruit drink which appears several times as a mixer. Someone should invent a cocktail called Pants and Ting, as a tribute to Althea and Donna.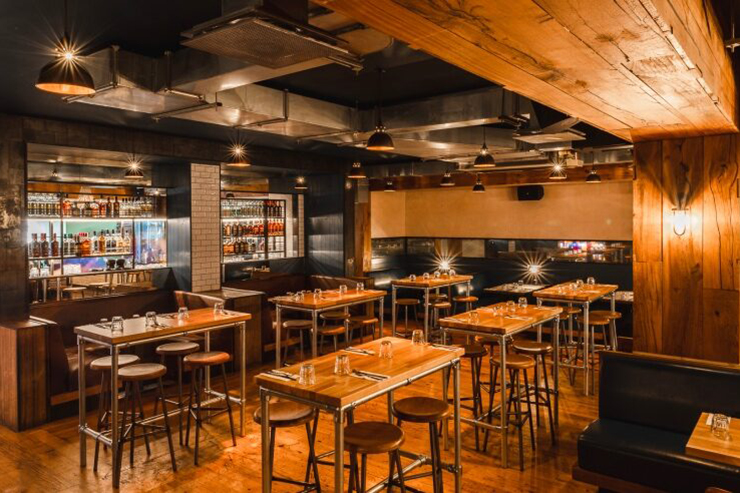 A good gauge of a cocktail menu is its classics, so we start with rum sours. They are exceptional. Beautiful on the eye, with perfectly balanced sweet and sour flavours. Later, we sample some of the RK Twists (Rum Kitchen's take on cocktail favourites), where the highlights include the Rude Boy. "If you know you know," reads this drink's cryptic description on the menu. Well we didn't know, but we soon found out… it's made with bloody strong rum. If you order one, just be prepared to own up when the waiter shouts "who's the Rude Boy?" across the table.
The food menu features all the Caribbean classics, with loads of fat and carbs to soak up that sugary rum. Goat curry, rice and peas, fried plantains, salt fish… We start with a KFC, which is not what you think. Here it stands for crispy fried cauliflower. We also go for the fried prawns, which are like crispy little seafood pillows, and come with a knockout yellow sauce. The sauce is like a sriracha mayo made with scotch bonnets and ignites any brain cells that remain untouched by the sound system's bass.
The service is fast and friendly, and everything we order arrives, despite some communication problems due to the decibel level ("How am I being selfish?" "NO! WHO ORDERED THE SALT FISH??!!). And as we wait for the mains, some girls on the adjacent table, who look like they've been here before, jump up for a dance, which makes us feel like we've gone clubbing by accident.
The 48-hour marinated jerk chicken is a winner, with its super-smoky barbecue flavours, it tastes (in a good way) like it's been cooked over a converted oil drum, under a palm tree, next to a turquoise sea. The seasonal fried fish is nicely cooked and comes with house slaw, and rice and peas. The portions, especially the starters, are not huge, but they are filling, and we leave too stuffed for dessert — which is just as well because they don't serve desserts anyway. Not even a slab of flambéed McVitie's ginger cake in sight.
The combo of fast music and sugar-cane-based spirits makes us eat really quickly, and the whole experience is something of a tropical whirlwind. Within an hour or so, we're back on Black Lion Street, the rum- and jerk-fuelled fire in our bellies shielding us against the autumnal bite of chilly old England.
The Rum Kitchen's clubby vibe means it's not ideally suited for an intimate tête-à-tête, but it does dish up authentic Caribbean flavours and the cocktails are Tings of beauty.
Find The Rum Kitchen at 11 Black Lion Street, Brighton