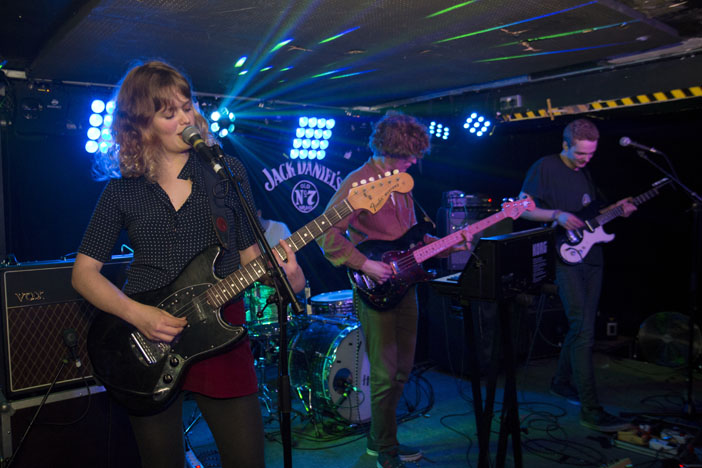 I first heard of Pip Blom via good friend and SOURCE photographer Ashley Laurence. Always excited to hear something new, I perused the modest catalogue of songs on Spotify, and from the first few chords of 'Babies Are A Lie' was immediately charmed.
Amsterdam singer songwriter Pip Blom first started out with a three-string Loog guitar, writing the 14-track demo 'Short Stories' in 2013. Since then, the talented singer's DIY ethic has continued to gather acclaim from the likes of Radio 1's Huw Stephens and 6 Music's Steve Lamacq, and at the time of writing, latest single 'School' has also been added to 6 Music's prestigious playlist.
Thoroughly impressed by the lo-fi fuzz and pop sensibility, we made sure we caught the final night of her UK tour here in Brighton. Opening with 'Tired', followed by the insanely catchy 'School', Blom commanded the stage effortlessly, kicking off proceedings with a solid start. Then the slick melody of 'Hours' rolls off the singer's lips and by the time 'Babies Are A Lie' hits, the laidback chorus had the audience hooked.
'Honey' with all its grit still oozes sweet melody, whilst 'Taxi Driver' follows with an infectious up-tempo hook. Pip is backed by an impeccably tight band here tonight, and guitarist and brother Tender Blom really shines on vocals for 'Pussycat', a song that punches with grungy angst. 'I Think I'm In Love' is a real set highlight, and rounds off the short but sweet set perfectly.
It's still just the beginning for Pip Blom, but tonight's performance serves as further evidence that the singer songwriter has what it takes to keep on rising to the top. I strongly suspect we'll be seeing more of Blom and on much bigger stages in the not too distant future.
Sticky Mike's Frog Bar, Friday 1st December 2017
Words by Jack Fletcher
Photos by Ashley Laurence