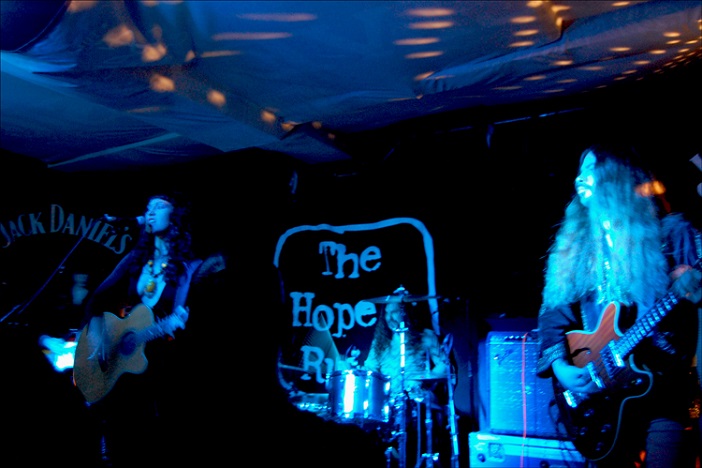 The Hope And Ruin heaved with the number of fans who had turned out for the psychedelic groove and danse macabre of Purson on Easter Sunday.
After a shaky start with vocals disappointingly low in the mix, the professionalism and magnetic confidence of frontwoman Rosalie Cunningham won the crowd over, who swayed enraptured shoulder to shoulder.
Cunningham, all catsuit silhouette and clouds of black curls framing big beseeching eyes, had no trouble persuading the crowd to be swept along by stories of wanderers, deities, mavericks and mystics. The remaining four band members, with enough hair between them to stuff a mattress, dressed to complement their vintage sounds – wearing their 70s influences proudly on embroidered sleeves, while thankfully managing to swerve complete parody. Occasionally the band choreographed bringing their instruments up close together, breaking solemnity to grin through the longer jams, clearly enjoying what they do.
Jaunty fan favourite 'Spiderwood Farm' elicited rightfully proud smiles from band members, and it sashayed through SOURCE's head long afterwards on the blustery walk home. Purson teased with newbie tune 'Mr Howard', a taste of what's to come from their second album 'Desire's Magic Theatre'.
They broke flared stride momentarily to state they couldn't see their vocals registered on the monitors, with Cunningham claiming it was guesswork. They guessed well.
Cunningham's voice was sweetly strong and seductive, peppered with becoming squeaks and coquettish lilts à la Tori Amos, and occasional punctuation of trills and yowls. These only served to enhance and never descended into overtly self-indulgent warbling, as can often sadly be the case with other dark cabaret acts.
Purson rounded up the set with the introduction of a twelve string guitar for a softer number, and were easily persuaded to quickly return for an encore (with a cheeky "Oh, alright then"). Perhaps they were sympathetic to the fact that the crowd had stood in a boiling windowless room for several hours, with the excesses of a four day weekend catching up with them.
If there was room for improvement, it would've been with the lighting. More multicoloured swirls and dapples as befits a psych-rock performance would've been the cherry on top of this Sunday treat.
With a practised crack of a ringleader's whip, they literally whipped up a storm, which would see devastation wrought on the Wendy houses of Hove, the trees of St Ann's Well Gardens, and all along Brighton seafront shortly afterwards. Carnival carnage, a calculated whirlwind dance of a performance, and the Cream of the (Black) Sabbath.
The Hope And Ruin, Sunday 27th March 2016
Words by Karen McDermott