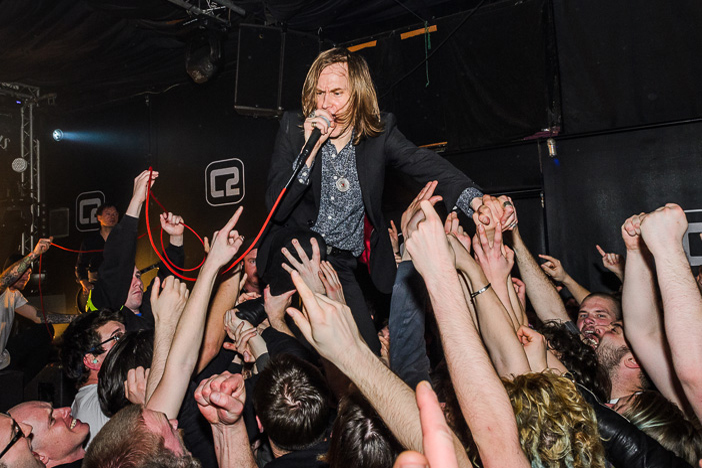 This show had sold out weeks in advance and there was clearly a lot of anticipation in the room. We were glad to find a mix of older followers keen to witness Refused's return to the stage, and new fans who must be aware of the influence they've had on the hardcore punk scene – including many of the bands they love today. The band's seminal 1998 album 'The Shape Of Punk To Come' basically set the template for what followed, but the band burnt out before many got the opportunity to see them live, even though they gave us a second chance with a reunion tour in 2012.
As the lights go down, lead singer Dennis Lyxzén calmly walks on stage to great cheers from the packed venue. The rest of the band joins him and there's a ferociously loud start to the show. They've lost none of their power as a live band and none of the confidence. Lyxzén strides across the stage, his impressive mic throws and spins trailed by a distinctive red cable. With a foot on the monitor and hair over his face, the singer manages to maintain the anger and emotional authenticity of the band's punk roots even as he jumps across the stage. At one point he climbs into the crowd, held aloft by fans while continuing to sing.
He even takes the time to pause the show and speak to the crowd, reminding them that the reason they originally wrote these songs (almost 20 years ago!) was because they always felt the like the outsiders. Apparently the band were worried they might have lost their drive and their belief in the lyrics, but thankfully they haven't and that is what's spurred them on to tour again and release new music. Refused deliver a storming set of classic material with occasional samples of the new album. A hugely satisfying show for all who've never had the chance to see them in action.
Concorde2, Friday 25th March 2016
Words and photos by Mike Tudor