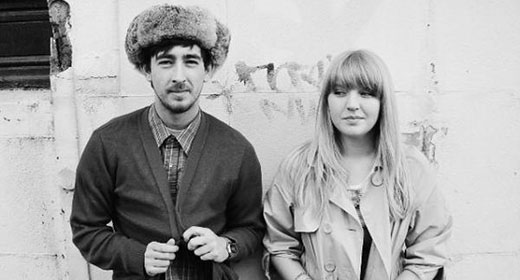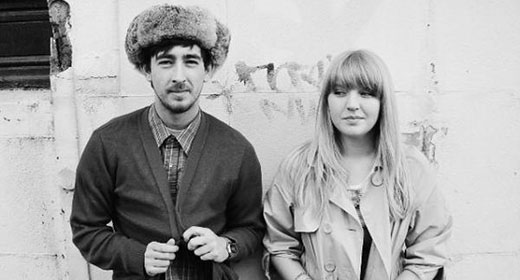 "Could Slow Club be the best band from Sheffield? Who is even from Sheffield apart from the Arctic Monkeys?" The resounding answers to these questions were "no" and "Human League." Okay, so they've got a lot to live up to. Nonetheless, Slow Club have been steadily building both a good reputation and a dedicated legion of fans over the past couple of years, and are set to be unavoidable following the release of their second album, 'Paradise,' at the beginning of last month.
The main support was a polite gentleman of folk-ish leaning by the name of Sweet Baboo, who confused me a bit. He's either a disappointingly generic songwriter or a work of post-post-ironic comic genius. I suspect the latter: effortlessly weaving self-deprecating ditties with every folk stereotype amid lilting Welsh tones, he's surprisingly good. A bit like Morrissey might be if he had been born twenty years later and preferred checked shirts to looking moody. Soulful and depressing, but in a good way.
The main attraction needed no introduction, particularly to the decidedly unsteady gentleman at the front bellowing the band members' names whilst brandishing a plastic glass of lager. And as Charles and Rebecca fling themselves onto stage and into a crowd-enticing rendition of 'Where I'm Waking,' it's easy to see why this Northern twosome are attracting unabashed love like some kind of minor Gods.
Rebecca's inspired stage presence tips between Kim Wilde and Laura Marling with equal credibility, and Charles' achingly beautiful voice is reminiscent of Jeff Buckley, via The Arcade Fire. Comparisons aside, they're pretty unique. Although girl-boy duos are increasingly popular in these post-Stripes times, both are musicians at heart, and pull their weight equally, flitting between instruments and maintaining an endearingly honest attitude, directed at each other and the audience.
Their set is a greatest hits compilation of previous fan favourites and newer songs, both from 'Paradise' and as-yet unreleased. The jingly, wholesome festival anthem 'Our Most Beautiful Friends' is a highlight, as is melancholic, harmonic 'Come On Youth.' Impressively tight and cohesive, Slow Club's style repertoire sees them vault genre boundaries and create their own sound, without seeming constrained or influenced by popularity. They're just two people, being a very good band, doing their thing. They may not be challenging The Human League yet, but they're climbing leagues with every show they do, and deserve their increasing popularity. And the free Smirnoff Ices.
SLOW CLUB
AUDIO, THURSDAY SEPTEMBER 29th 2011
WORDS BY JESSICA MARSHALL MCHATTIE