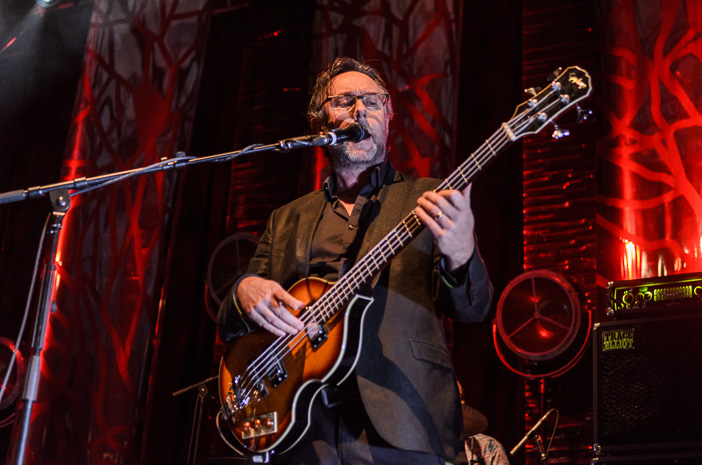 Richard Hawley was last in Brighton in 2012 on the back of his hugely acclaimed and Mercury Music Prize nominated album 'Standing At The Sky's Edge'. After an intimate show in Liverpool, this night properly kicks of his tour for new album 'Hollow Meadows'.
The stage backdrop is made up of large vertical banners awash with blue light. Each one is styled to match the broken glass imagery of the album cover art, with orange vintage studio light in between. Welcomed by cheers as he walks on, Richard Hawley takes centre in front of a music stand lit by a single light. Opening the set with recent single 'Which Way' we can tell already he's on top form. The psych-tinged stomp, with fuzzy guitars backing his distinctive soulful vocals, resonates through the venue.
It's full house tonight at Brighton Dome and there's clearly a lot of appreciation in the room – in the silence after the opener there's a cry of "I love you Richard" from the crowd. He calmly declares his love for everyone and the city of Brighton right back: "I get the feeling we're gonna 'av it tonight!".
He then launches into the beautiful and soaring 'Tonight The Streets Are Ours'. Here Hawley's crooning voice manages to blend both sadness and joy, which is one of the very things that makes him such a captivating artist. His confident stage presence and relaxed contact with other band members is testament his thirty long years as a musician. As the set continues you can't ignore the feeling of togetherness in the venue, or how much that feeling is needed.
Brighton Dome, Sunday 25th October 2015
Words and photos by Mike Tudor