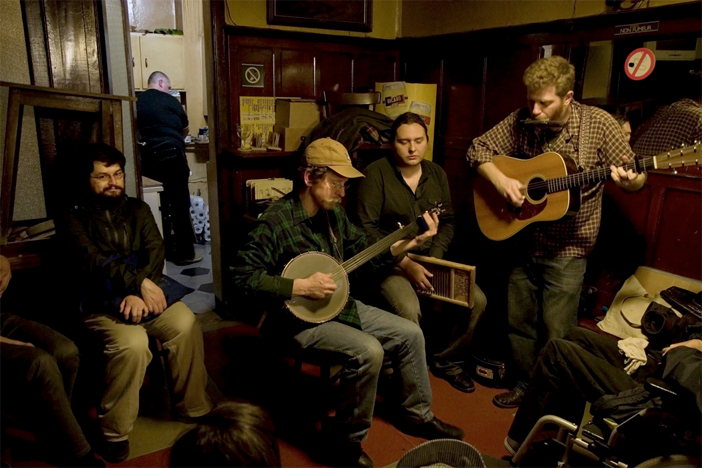 Toe-tappin', thigh-slappin' West Virginians The Black Twig Pickers come across, at first, like a bit of a parody. If you wanted to make up a typical band from the deep South and only had ancient Westerns for reference, it'd look exactly like this: checked shirts, paisley dresses, moustaches, the occasional whoop resonating from drawling burrs. But The Black Twig Pickers appear to be the real thing – in their spare time they go to square dances, they play fiddles like they were born to do it, and no doubt in their hometown, toothless ole Jimmy slurps his root beer in the saloon on Sundays and spits on the dusty floor.
Whether it's a cleverly constructed act or a genuine slice of old time Americana, The Black Twig Pickers do it well. As the evening draws on, songs about trainwrecks in 1908, little ducks on a pond, and encouraging one's baby to spend the night seem less self-consciously twee and more genuine. It helps that the audience is submersed in their style: no support acts played on the night, just two long sets of their own homegrown bluesy material.
By the end of the first set, they're teaching the audience to square dance, flat-footing, and generally having an infectiously good time. Alongside old material (they've been recording for over a decade) the band play the B-side to their upcoming LP. Released next month on Chicago label Thrill Jockey, 'Whompyjawed' is an experimentation in sound, recorded in an old farmhouse full of people. This epitomises The Black Twig Pickers.
Technically, they're outstanding, awe-inspiring musicians with a mastery of fiddles, guitars and mouth-harps that raise astonished gasps and standing ovations from the audience. A six-minute solo isn't boring, but entrancing. But for them, it's less about the songs and more about the experience – for the duration of the night the audience is transported into their world of small-town folk music. They won us round.
Sticky Mike's Frog Bar, Tuesday 10th July 2012
Words by Jessica Marshall McHattie