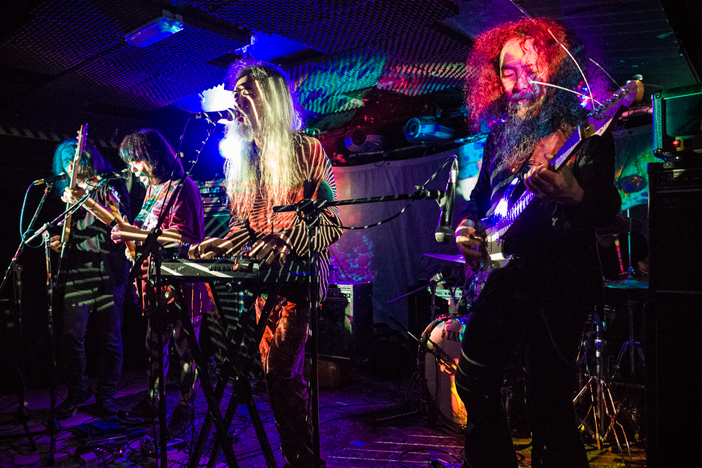 Acid Mothers Temple guitarist Kawabata Makoto was in town just last weekend with his noise-metal trio Mainliner for a gig that heralded the start of his two-date 'Brighton invasion'. On paper, the idea of getting an extra gig out of the Japanese psych leader's current visit seems an excellent idea, unless you're a venue or promoter suddenly faced with a pair of half-full concerts. Mainliner's gig had also coincided with one of the busiest weekends of live music in the city for some time (sending us elsewhere), but fortunately tonight's Sunday show is up against far less competition and Sticky Mike's fills out nicely as the long evening unfolds.
With the multiple permutations of Acid Mothers Temple, Makoto is tirelessly prolific, issuing numerous studio and live albums year upon year, so every tour is unpredictable and inevitably accompanied by a heavily weighted merch table. Playing tonight, the five-piece Melting Paraiso U.F.O. combination is his primary outlet, generating lengthy, crystal clear flights of psychedelic space rock. They take to the stage this evening accompanied by pink and blue starbursts of filtered oil wheels from Sussex heads the Innerstrings Psychedelic Lightshow, an eye-opening spectacle only slightly diminished by bassist Tsuyama Atsushi's fondness for making rabbit-ear shadow puppets in the beams.
Getting underway with a doomy, descending vocal chant, Acid Mothers Temple's extended song constructions cover the ground from stately outer-space guitar peals and steady motorik rhythms to chewy riffs, rolling bass runs and squalling power chords. Makoto maintains the focus from the edge of the group while Atsushi and second guitarist Tabata Mitsuru take the lion's share of vocals. Our eyes keep getting drawn to headbanging synth operator Higashi Hiroshi upfront, though, an immensely tall man with a fearsome shock of grayhair and beard who stands out even among one of the hairiest, beardiest bands around.
Time is suspended as we're sucked into a whirlpool of extremely loud and deceptively intricate galactic sound-voyaging. The dual guitar charge and Hiroshi's analogue whistles rinse our ears out completely, before some final nerve-jangling screams and evil laughter pitch us unsafely ashore. A real close encounter of the burned kind.
Sticky Mike's Frog Bar, Sunday 6th October 2013
Words by Stuart Huggett
Photos by Agata Urbaniak