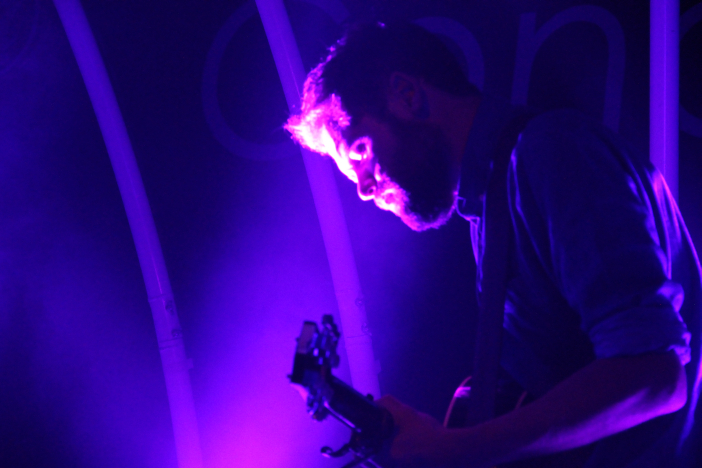 This was the first of a couple of sell-out hometown gigs for local boy made-good Mike Rosenberg, aka Passenger. Having written one of the most popular songs of the last couple of years in the X Factor favourite 'Let Her Go', the Concorde was full to breaking point but he didn't disappoint.
Support act Stu Larsen is also Passenger's driver, organiser and general mate and he kicked off with his gentle singer-songwriter set of folk-blues, interspersed with a brave cover choice of Coldplay's 'Fix You'. It was a bit like being back at one of the open mics in town Mike used to perform at, but half the crowd seemed to like it enough to sing along.
However, we were all here for just one man, who kicked off his set with the song 'Table For One', just him, no band, and his charisma and his energy. It was a very good start. He was chatting to the audience like they were already best friends, and by the end of the night it felt like we were.
Rosenberg's skill isn't his guitar playing, which has an aggressive repetitive precision born from grabbing audiences' attention on street corners and small venues, but it serves its purpose which is to support an array of very good songs. He paused ahead of 'Riding To New York' to tell the story behind the song, a tale about a man dying of cancer who makes his last trip to the city to see his son, and jokes that he doesn't want to bring us down. It's a symbol of the warmth with which he engages the audience that he judges it just right, and the moving song has added pathos when you know its true-life origins.
The magnificent 'I Hate' lists an array of things in modern life at which we should despair, and brought to mind Amanda Palmer who played here a few months ago. These two artists have radically different styles and arguably different audiences, but both artists represent a new streak of popular independence in music: people who play from the heart, seek to make a real connection with their large and ever-growing audiences and who have the personalities to make it feel real.
The global smash 'Let Her Go' came and went, accompanied by venue-wide backing vocals. Passenger has so many good songs now that he didn't need to make too much of his big hit or try to hype it for an encore. But he did decry the ridiculous number of times the song had been sung by X-factor contestants – "X Factor is killing music" – and told us that it was a song that took him just 45 minutes to write in a hotel room on tour in Australia. When it was finished, he thought "just what the world doesn't need, another song about my ex-girlfriend". Little did he know.
The inevitable encore brought us the quiet new song 'Whispers' and then the other great crowd-pleaser 'Holes', which had the whole audience singing at full voice:
"We've got holes in our hearts, yeah we've got holes in our lives, where we've got holes we've got holes, but we carry on…"
It was a lovely way to end a beautiful night. And we were out of the venue by ten, and home in time for a cup of tea. Perfect. Welcome home Mike.
Concorde2, Thursday 17th October 2013
Words and photos by Jon Southcoasting