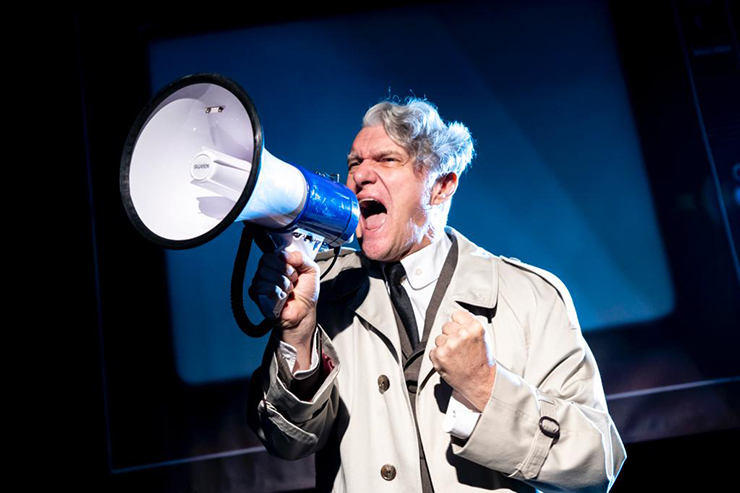 What does a notorious pop star do when the phone stops ringing and the bleach grows out grey? The Cheeky Girls sell mid-range saloons out of a Hyundai showroom in York now. Needs must, bum-touch invitations are more problematic these days. But Dunstan Bruce, erstwhile shouter in "Tubthumping hitmakers Chumbawamba", isn't pleading penury in his one-man show, 'Am I Invisible Yet?', which played two sold-out nights at the Rialto Theatre.
Chumbawamba sold a few million records worldwide off the back of that single, riding that last late-20th century wave of people actually paying money for CDs. Money the band were admirably known for redistributing to agit-causes and concerns, staving off accusations of bedding down with the establishment enemy in EMI. And of course there were about twenty members of the band, but no doubt they all got a nice drink out of it as well.
No, the angst Dunstan is wracked with is an existential one; feeling increasingly invisible, impotent and apoplectic. He's fifty-nine and he used to be somebody, striding the biggest stages pop had to offer with daft hair. When he shouted his slogans down the mic, people listened. They literally bought the t-shirt. But the mind behind them never lost its despair, its anger, even as the band ceased to be a viable mainstream media concern beyond Virgin Radio Anthems. A one-man show can mean many things. Our humbled narrator here was never going to be sharing a cosy fireside chat with the audience; tales of Top Of The Pops encounters and backstage bants. Rather, we see Dunstan remonstrating with himself via his own, disapproving Finney-esque visage scowling down from a screen, picking holes.
The rage he feels is clear to see, but this isn't just an angry old geezer bemoaning his impotent place in the world like an old pub soak in the corner. It's poetic in the literal sense that this is clearly a written and learned hour-long piece with rhymes in it and everything. But it's also performed in the way you'd imagine great slam poetry ought to be delivered, stanzas punched out with percussive aggression, points sharpened with every beat. The solutions should be simple, and those offered are. The human condition demands human connection. But it's never as simple as that, is it?
The show is peppered with material from Interrobang‽, Bruce's most recent band, formed with ex-Chumbawamba pal, Harry Hamer. Again, it's angsty, life-questioning stuff that sounds tailor-made for the show as he glares and complains into the theatre spotlight, the spiky guitar backing filling the room. It shows a singularity of vision across his mediums that these songs don't just seem crowbarred in, they fit just right. There's no whiff of 'We Will Rock You' here, no memories of 'Mamma Mia'.
The pace is never allowed to wallow as we veer from quiet, close-mic introspection to sustained yelling, clear testament to the show direction from BAFTA-winning Sophie Robinson. This isn't just man-in-a-suit stand-up in front of a plain brick wall, although he is wearing a natty green tonic two-piece (topped off with Doc Martens 'Adrian' loafers twinned with Argyle socks – Get Dunstan's Look!). The huge television screen backdrop, goading him that he's not on it anymore, is flanked by a bar and an ironing board. We not only get costume changes, but we get a nice crease in them, too.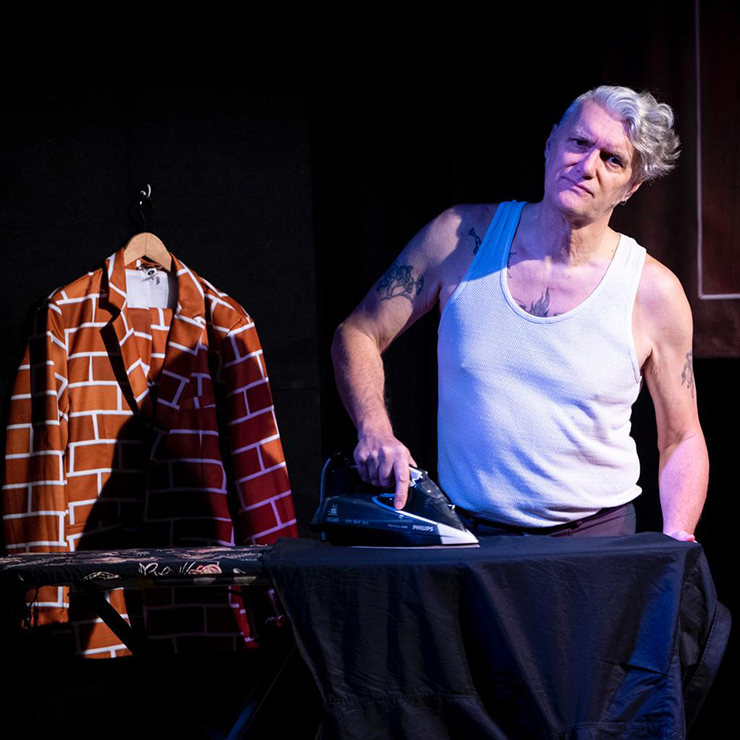 It's perhaps the eternal pop star in him that instinctively insists he bring out the greatest hits; you don't have a big pop firework like 'Tubthumping' in your back pocket without launching it indoors. There's your actual whisky drink, vodka drink, lager drink and cider drink on show. The optics are quite literal in both senses. Indeed, in one dramatic interlude Bruce is knocked down, but he triumphantly "gets up again" to substantial applause. The boy can work a room.
Interrobang‽ aside, Dunstan Bruce is most actively a filmmaker these days. He's produced several engaging documentaries, including ones about The Levellers and UK Subs, both of which pull off the enviable quality of watchability despite any affinity whatsoever with the musical stylings of their subjects. 'Am I Invisible Yet?' is presented as a kind of companion piece to his new film, I Get Knocked Down, the insider's view of life in a band that really got on a lot of people's nerves until their eighth album yielded a genuine modern standard.
The impetus behind the show might well be angst and despair, but its execution as a brilliant live debut is ultimately its solution: do new things. Break your comfort zone. And it's with this in mind that we see our hero, a man unblessed with tender voice or savvy guitar, sing and strum a nice little song he'd written, and address the audience earnestly in his grey underpants (model's own). A great way of pissing the night away with one of pop's most interesting one-hit wonders.
Rialto Theatre, Thursday 18th November 2021
Photos by Richard Hanson @ Hanson Images