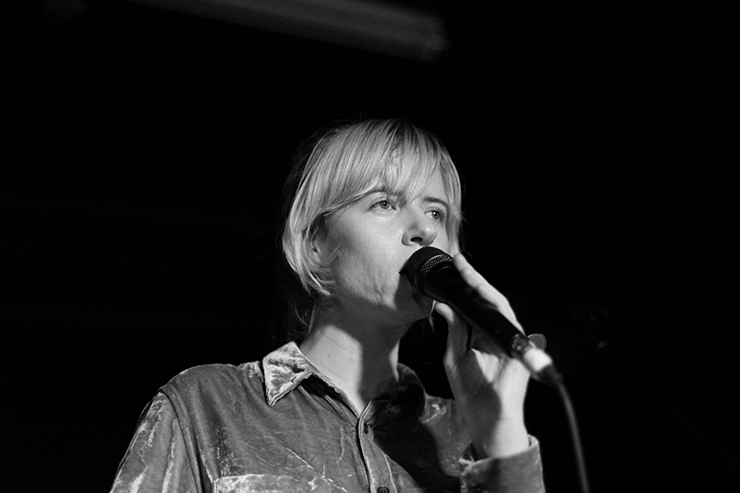 This gig felt intimate from the outset. After support act Basement Revolver had worked their magic, and with the band so close to the crowd, the scene was set for Amber Arcades to do their thing.
As the bands changed over it was clear there was a lot of chemistry between them, with admiration from both sides. However, with the bar being set so high by Basement Revolver it was interesting to see how Amber Arcades would fare, yet it didn't take long to realise that they were more than ready to step up to the mark.
Having reminded us that they hailed from the lands of the EU, Netherlands' Amber Arcades received a warm welcome from a crowd that certainly lived up to the reputation of the People's Republic of Brighton. While the band was dressed all in white, lead singer Amber (real name Annelotte de Graaf) wore her trademark gold tracksuit which seemed to almost reflect the music as the electric guitars gave off a sound akin to glistening light.
In some ways Amber Arcades would fit in with the Britpop bands of the 90s, at least in terms of their imagery and sound, yet they also have an intriguingly modern vibe and lack the arrogance of some bands from that era. The overall feel of the music was filled with both positivity and sensitivity, a unique blend that warmed the soul. Often a smooth melody would give way to a gushing tidal wave of sound, with all the instruments delicately arranged – no doubt the result of meticulous rehearsals.
The guitarist, in bursts of energy, occasionally escaped into passionate and captivating guitar solos, creating a real buzz amongst crowd and band alike as he darted about the stage like an animal in heat. At one point he got up onto a stool after having a minor collision with a band member, although this was brushed aside as they still had a show to put on.
The encore was nice and long and ended with a wall of sound in a similar vein to The Velvet Underground's 'Heroin'. This is a band who draw on a variety of influences and filter them through a delicate honing of their skills. They seem let their emotions flow through their instruments and with Amber's delicate and beautiful voice soaring through the highly organised chaos, it proved to be a thoroughly entertaining night full of love, mutual respect and a healthy level of passion.
The Haunt, Friday 12th October 2018
Words by Jack Moore
Photos by Harriet Broom