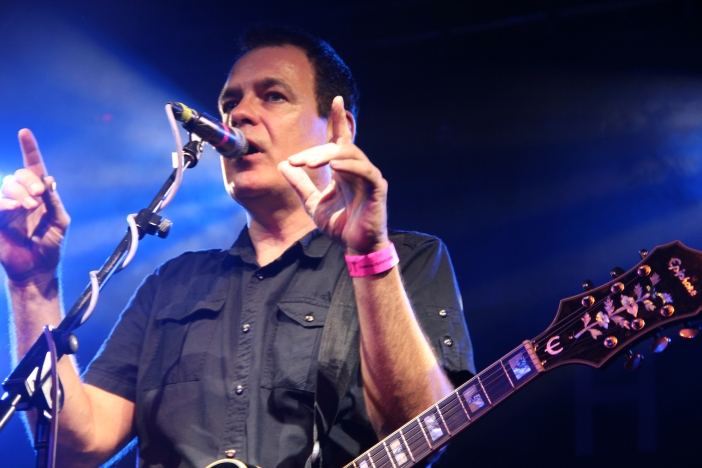 The Wedding Present's At The Edge Of The Sea festival is on its way to becoming as much of a Brighton Bank Holiday tradition as sunburn, scooter runs and hen party stragglers face down in their own puke, all of which we ticked off on our bingo cards today. The festival is a good-natured gathering of the tribes for that generation of 30/40-somethings for whom taping the John Peel show was once a way of life. Formed in mid-80s Leeds, The Wedding Present were the biggest name in northern British indie after The Smiths, at least until the Madchester wave broke, and this year's event promised a complete run through of their landmark 1991 album 'Seamonsters'.
Wedding Present founder David Gedge has been living in Brighton for several years now, so today's line-up had a healthy showing of local acts spread across the bill. Crammed onto a second stage in the bar, fez-bedecked, musical saw supergroup Sawchestra, Eva Katharina's spooked Das Fenster and Sevjan Melissa's Anglo-Turkish ensemble Yaz Bebek all fare well, but it's fellow Brighton adoptee Martin Rossiter who steals the show. His dramatic piano and vocal set proved that, in the run up to his forthcoming solo debut, none of the songwriting or performing talents of his Gene days have deserted him. Of course, 'Olympian' brought the house down.
Back in the main hall, perhaps the day's biggest surprise is just how popular Cud still are. Former Leeds mates of The Wedding Present (who released Cud's first single on their own label), the group's witty and twisted funk did give them a handful of minor chart hits in the early 90s, but we didn't think many people were waiting for their return. How delightfully wrong we are. Broad voiced singer Carl Puttnam is growing old disgracefully with a thick moustache and some full body-shaking dance moves, and Cud's writhing, rhythmic clang sounds better today than ever. 'Only (A Prawn In Whitby)' is a powerhouse. The crowd go batshit.
"We're the semi-legendary Wedding Present and this is my festival. Ha-ha." He's a dry compere, that David Gedge. Our usual problems with bands playing their classic albums in full are i) the lack of set-list surprise when you know the running order from the LP, and ii) the defeatist subtext that no-one, band or audience, is really convinced an act is as good as they once were.
The Wedding Present have always been a smart band though, so while we're fully expecting them to come on to the sullen strum of 'Seamonsters'' opening track 'Dalliance', we're wrong-footed when instead a double-drum line up jumps feet-first into the clattering 'End Credits' from this year's zippy album 'Valentia'. This turns out to be Gedge and co indulging themselves in front of a partisan crowd with a quick set of self-described "obscurities" before the 'Seamonsters' set proper. Are we glad to hear 12" bonus tracks from 1989 ('One Day This Will All Be Yours')? Very glad.
What's peculiar about seeing the group perform 'Seamonsters' is that it's in no way an upbeat album, yet the audience are primed to treat it as a celebration. Originally recorded in a 10-day stint by Steve Albini and released early in 1991 prior to the international grunge breakthrough, 'Seamonsters' is a frenetic record wracked with lust, infidelity, jealousy and betrayal. It's one of the great British indie LPs (in sound, not label – it came out on RCA), and, as the band play it this evening, its bursts of coruscating guitar and rapid drumfire still astound. As couples punch the air around us, however, we have to wonder at the state of their relationship histories.
At the close, Gedge laughingly apologises for the darkness of the previous 40 minutes or so, and The Wedding Present leave on the bright buzzsaw pop of 'You Should Always Keep In Touch With Your Friends'. They're bound to be back next year. We're pretty sure we will be too.
Concorde2, Saturday 25th August 2012
Words by Stuart Huggett
Photos by Jon Southcoasting