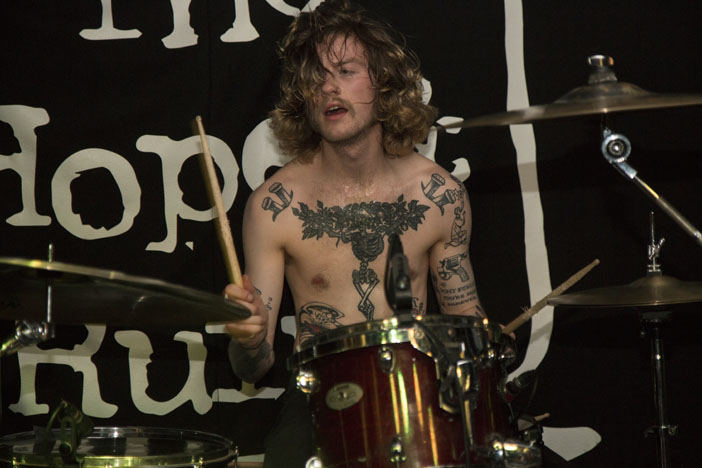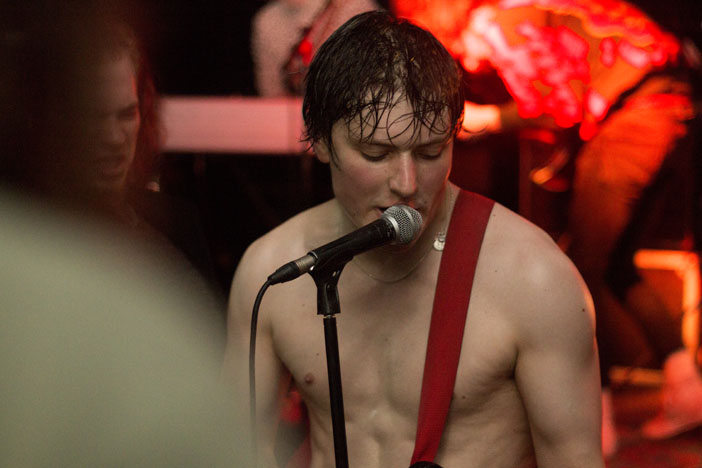 We saw Avalanche Party a couple of months ago, and were blown away by the intensity of their show. So when we got wind that they were supporting Acid Cannibals, we were eager to shuffle on down to the Hope and Ruin.
Avalanche Party hail from Castleton, a small village in the Yorkshire Moors. With a reputation as an excellent live prospect, this was the first night of a tour that sees them playing across the UK, well into April.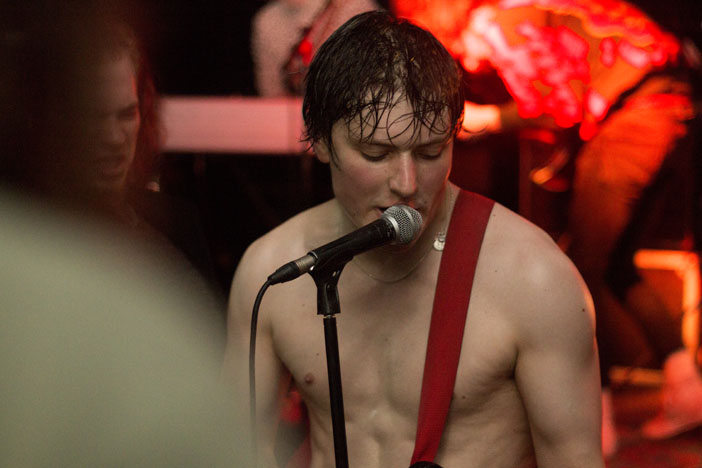 The set kicks off with a brooding intro and the words "I'm so wet" repeated like a mantra. Those familiar with the song realise that they're about to launch straight in with one of their biggest tunes. Frontman Jordan Bell, already shirtless and looking like he is on a mission, empties a bottle of water over his head. This is the cue for the band to launch into life.
The keys on this track are a particular delight, a rich organ sound harmonising perfectly with a looping groove-filled bass to provide a lush backdrop. And it's a backdrop to a feral, wild garage sound that sounds like post-punk got into a fight with psych; frankly, everyone wins in this scenario.
Whilst we cannot overlook the fact that there was a disappointing turnout, this doesn't deter the band from going full throttle. The rest of Brighton may not have fancied venturing out into the rain on Mothering Sunday, but some took appreciation to the next level. One Polish fan in particular was loving every second, having waited to see them for a number of years. "The best song in the world," he loudly and proudly declares after 'Revolution'.
Hyperbole perhaps, but there is no doubting the song sums up the DIY ethics that Avalanche Party pride themselves on. Sonically huge, the track rumbles with an urgency and momentum fitting of the title. Set-closer 'Solid Gold' confirms that the guys have already got a number of standout songs in their repertoire.
Avalanche Party are tight as you like live, every single member of the band giving their all. Jared Thorpe (vocals & guitar) and Joe Bell (keys) provide plenty of entertainment on stage, thrashing about and loving life.
Frontman Jordan Bell is another prospect entirely. There is an intensity behind his performance that suggests he is on a different plane from everyone else in the room. Commanding vocals are matched by a show-stealing presence; shirtless, he imposes himself by performing half the set in the crowd, drawing all eyes to him.
Following this lot was going to be a hard act, and frankly, we're not quite sure what to write about Acid Cannibals. Newly formed, the lads from Glasgow have a hardcore heritage, frontman James hailing from The Cosmic Dead, and drummer Rob from Droves.
It is possible that our ears were too soft, but we just couldn't really fathom what the act was all about. Was it ironic? There was certainly humour there, and the extreme-fan theme of the night was completed by… well the dude in the picture below. 'Nuff said.
Genre-wise we would hazard a guess that it was pure thrash-metal, which has to be said, is not this writers' cup of tea. One song had a 'little drummer boy' style melody and told an endearing story of buying a load of NOS. And then the noise came back in, and we wished we had worn earplugs.
So, unusually, not much to say about the headline act, but a big nod of our hats to Acid Box Promotions for landing Avalanche Party. Or as we like to say (and cackle to ourselves at our own shitty joke) 'have a lunch party'. We hope next time they hit Brighton, they will be playing to the size of crowd they deserve to pull.
The Hope and Ruin, Sunday 11th March 2018
Words and photos by Ashley Laurence