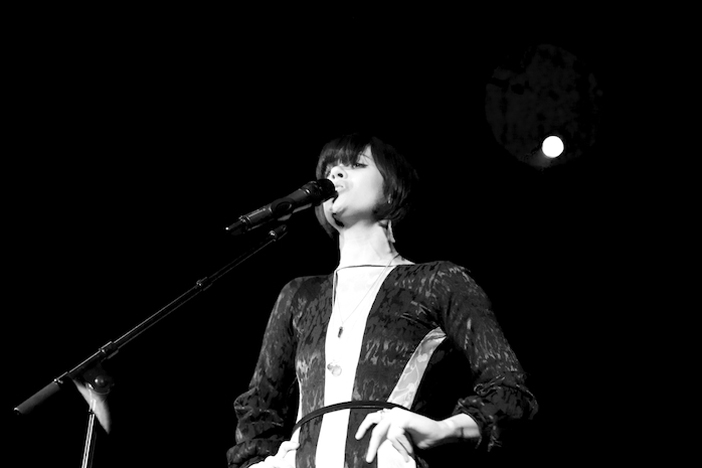 The already iconic Ryan McGinley photo on the cover of 'The Haunted Man' generated a lot of questionable attention for Natasha Khan's latest ("Bat For Flashes!" yelped the front of the Metro) these past few months. Fortunately, there's no sign of prurient voyeurs at tonight's hometown show, with the most voluble declarations of love directed Khan's way coming from some fairly hammered young women at the back.
Onto a theatrical set of not terribly convincing rocks, Khan and her band arrive for album opener 'Lillies'. She's resplendent in a black and white striped gown that wouldn't have looked out of place in the courts of Renaissance Europe, her dressed-down group settling on the hills behind. It's a slow building song to begin with, but one that proves Khan's in excellent voice this evening, thwacking at some sidestage drum pads as she sings.
Khan's delighted to be back in front of a Brighton crowd, continually calling out to the audience and grinning broadly. 'Glass' finds her loosening up with some sinuous dancing, turning around to show the room her back muscles rippling. One of our party tells us later that she's been training with a choreographer, and she's certainly got better moves than us lot clumping around in the stalls.
With a set drawing generously from all three albums, there's plenty for old and new fans alike, with Khan dedicating 'Horse And I' (from debut 'Fur And Gold') to her most loyal followers as she teases out its harpsichord intro.
Throughout the show, Khan's four-piece band have been swapping from keyboards to cello, drums to guitar. Deep into the set, all except pianist Ben Christophers leave the stage, for a torch song performance of 'Laura' that takes the audience's breath away. It's a showstopper, threatening to become an anthem held to the heart of anyone in the room, whatever their name.
Bat For Lashes have plenty of songs left though, and eventually, after the thumping electronic pulse of 'Pearl's Dream', they exit. Of course there's a hollered-for encore, with the band working through an smartly arranged 'The Haunted Man', Khan channelling their backing vocals through a wooden box radio above her head. Finally comes the inevitable, triumphant dash through 'Daniel', Khan cheering the balconies onto their feet.
Afterwards, we bump into numerous friends from the past and present, weaving their way out of the Dome. It figures, no-one really wanted to miss this celebration.
Brighton Dome, Sunday 4th November 2012
Words by Stuart Huggett
Photos by Jonny Alexander