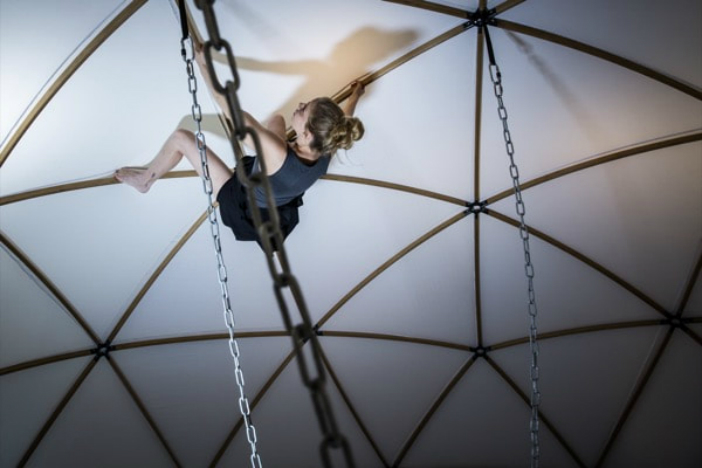 With a run of four days at Kemptown's 19th century Spire, Finnish circus arts group Agit-Cirk are providing a certain highlight of this year's fringe before the first week of the festival is out. Circular pods of light arc at the feet of the audience in an opening movement by Jenni Lehtinen, a spectacularly supple human spider who hangs and arches around the timber frame of the company's elegant dome.
When she's not almost disappearing into the roof of the tent, Lehtinen performs a sublimely choreographed balancing act on small pieces of wood and sets chains clanking synchronously in the air, all to a cinematic soundtrack lit by rays of pink and white. As the crowd roots for this exquisite talent and the tent covers come off for a spring-like finale, the subtle marks on her legs and calves are the only giveaways of the years of work this extraordinary acrobat must invest in her art.
Outside the dome, Sasu Peistola – a co-founder of the company – initially plays the suited master of ceremonies. He heads inside and takes over, though, for the second act, a brief and witty introduction to being a strongman with a sickening section in the middle. Helped by two audience members, Peistola takes a massive stone kettlebell to the stomach in a recreation of the kind of move, he explains, that ultimately did for Harry Houdini. Before that, this robust and charismatic storyteller lifts Lehtinen off a mattress with his teeth and escapes a straitjacket with a spot of mid-air writhing and blustering.
He finishes by grabbing the kettlebell – simultaneously a friend and foe to his work, he admits – to enact an emotive, muscular dance in the hushed space. This is inspiring, stirring and brave physical theatre at its best. For the small circle of viewers, the performances feel personal and powerful.
The Spire, St Mark's Chapel, Brighton, until May 7 2018. Performances at 2pm and 5.30pm.