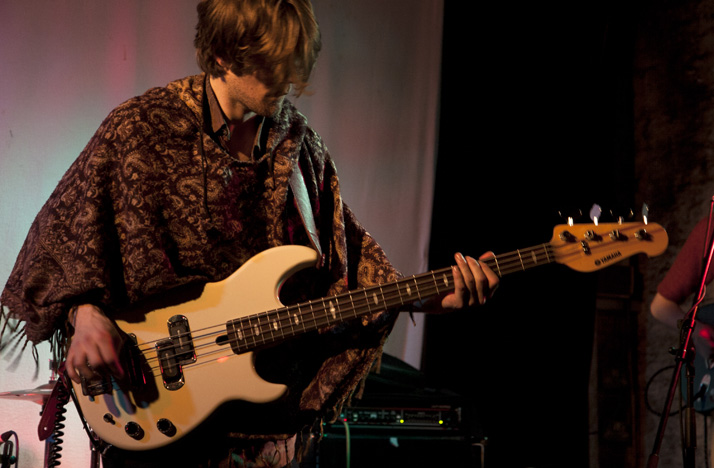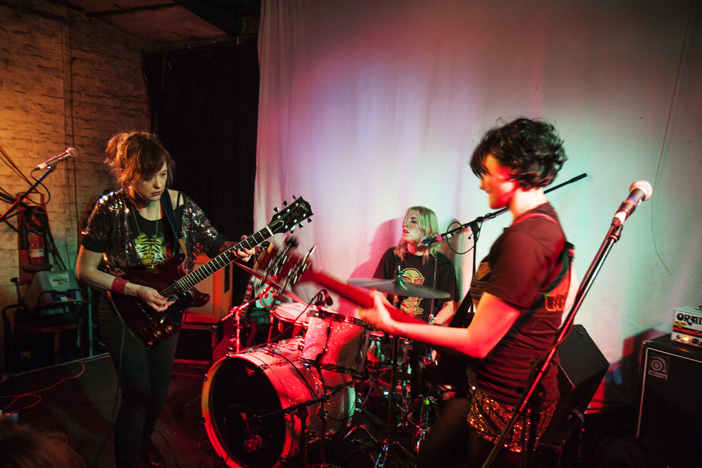 Dublin five piece Princess are in support tonight and impress with their tight krautrock rhythms and dreamy summertime harmonies. New single 'Black Window', released on March 2nd, is loaded with harmonic hooks and earworms. We're excited to hear more.
Ex Hex kick off with 'Don't Wanna Lose', the opener from their highly acclaimed debut 'Rips'. "I thought you were a man of action. Come on, baby, come on, give me a little reaction" sings Mary Timony as the crowd willingly oblige her. Although relatively formative as a group they display a tightness and coherence which mirrors the record perfectly. Only live it's loud – really loud.
These ladies are no strangers to noise though. The forty-four year old frontwoman Mary Timony is a self-taught guitarist and was previously in Helium, Autoclave and Wild Flag. Drummer Laura Harris and bassist Betsy Wright played with The Aquarium and Fire Tapes. They have a wealth of experience and it shows.
They look the part as well. All leather jackets, sequins and Van Halen shirts as Timony and Wright cross instruments and shred together. Wright puts her foot on the amp and lurches into the crowd. Lip curled she strikes her best punk rock pose while the crowd erupt in a pit below her.
The Washington garage rockers tear through 'Warpaint' as the sold out crowd ecstatically twist and turn. Timony stares into space and sings about how 'the music was just too loud' before unleashing a titanic guitar solo. Judging by all the moshing and air guitars the volume is definitely welcome.
"For all the people that like to party, this one's for you" declares Timony before a rendition of 'Beast' that's played twice as fast as on record. Harris' drumming is ferocious and the sound coming from the three piece is colossal. Each song is propelled by riff after riff with Timony playing solos on her knees or with the instrument raised vertically like the guitar heroes before her. She doesn't miss a note either.
"You guys seem pretty cool," says Wright while smiling shyly to the crowd. "I think we like Brighton." The bassist sings the lead vocals on 'How You Got That Girl', one of the many great break-up songs on 'Rips'. The skeletal verse slowly builds to a chorus built around another monster hook. A middle finger to love rats and heartbreakers everywhere it sounds huge and celebratory live.
Harris teases the audience with an extended drum solo before the trio rip into 'Everywhere'. Bathed in green and red lights it's like watching a Vixen gig in the 80s with 3D glasses on. One final stadium sized solo from Timony and they disappear to a feverish screams and applause.
Ex Hex respond to the beckoning crowd with a rousing encore of 'Waterfall'. "It's our last night in the UK and we're so sad to leave," says Timony looking wide eyed and humbled. "This song is for the UK people." she says with a smirk before the band tear through a blistering rendition of Johnny Thunder's 'You Can't Put Your Arms Around A Memory'.
As we exit Ex Hex are propped at the bar posing for photos with fans. You get the feeling if there's an after party they'll be the last to leave.
Green Door Store, Sunday 15th February 2015
Words by Andy Baker
Photos by Ashley Laurence