Support act Crows aren't playing like half the crowd is in the foyer at the bar. Static buzzsaw guitar circles clunking bass and driving beats. Singer James Cox parades and paces, sometimes shouts and sometimes croons into a cavernous Elvis mic.
Later frontman and co-founder of IDLES, Joe Talbot, would dedicate 'Queens' to them and proclaim Crows as "one of the best bands I've seen in my life… thanks for supporting us". Now, don't get us wrong, we thought Crows were great (check out their debut 'Silver Tongues', and if you like IDLES, well…), but this kind of fraternity is core to IDLES' appeal. He meant the word 'support' in a way no one else does when talking about support bands. Which brings us to IDLES.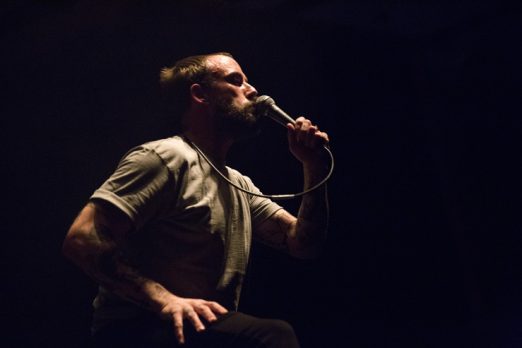 The distinctive rim hits of 'Colossus' come in, slower than the record. Talbot walks in circles like a trapped animal. A strobe loops the stage speeding up with the tempo until the outro kicks in and the crowd explodes. Talbot spits literally and then spits, "I'm like Stone Cold Steve Austin, I put homophobes in coffins… I'm like Evel Knievel, I break bones for my people".
The crowd sings every word of 'Well Done', which, at the risk of this review being nothing but a ream of lyrics, includes the amazing line: "Even Tarquin has a job, Mary Berry's got a job, so why don't you get a job?"
With the rattling bass of 'I'm Scum' the crowdsurfing starts. Talbot changes the lyrics in reference to Sleaford Mods' beef (the Oasis/Blur of austerity Britain?!) before we scream in unison "this snowflake's an avalanche".
There's an aggressive inclusivity that runs through everything IDLES do, and clearly a lot of people are feeling the righteous anger. You can see it in the ferocity of the crowd, the amount of 'I'm Scum' loveheart T-shirts. Or in the FB community AF Gang, which IDLES created: a genuine safe space. And if that sounds saccharine, maybe. But we'd urge you to check it out first because it's really uplifting.
More of the same follows: a beautiful and noisy celebration of community and vulnerability. Talbot thanks the monitor engineer and the stagehand by name (and gives a shoutout to Brighton post punks DITZ). He even thanks the security and dedicates a song to the band Her's in the wake of the tragic accident that claimed the lives of the duo two days before. Oh, and he also sends big love to someone called 'Stephen' via a Queen-at-Wembley call and response.
IDLES are a band that mean more to people than just good music; they've hit a zeitgeist. For our money they're future festival headliners.
Brighton Dome, Friday 29th March 2019
Words by Rowan Reddington
Photos by Ashley Laurence