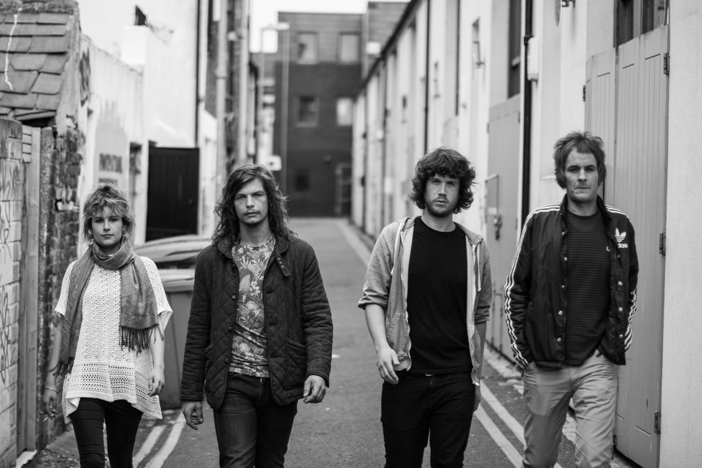 Brighton's emerging music scene is arguably one of the city's main attractions – even when it's not Great Escape time. Each month, SOURCE will be compiling a list of new Brighton music for you to check out. To kick off we've got tracks by Glass Sines, Warsaw Radio, Hell Beings, Idle Talk, Hamilton Yarns, FS&HG, Cold Rice and Two Jackals.
Glass Sines
'Connected' (Glass Sines)

Infectious synth quartet Glass Sines (pictured) like to mix things up. Their latest track 'Connected' starts with an intro that's rather like an outro. Tom and Ian of the band love all night parties, which would also explain the JX / Happy Monday's vibe going on. With the addition of Tom's sister, Kate, on violin and his school mate, Sam, on guitar, this really is an all Brighton band.
Warsaw Radio
'Give It All To Fear' (Spin-Up)

Following their appearance at The Great Escape, folk-rock band Warsaw Radio has released the anticipated 'Give It All To Fear', which was out on 12th September. Irish frontman and history buff, Brían McNamara has a knack of enveloping the listener as he tells stories of fear and jealousy. The band's name is also inspired by the musicians who played on the Warsaw Radio station throughout the siege of Warsaw in 1939.
Idle Talk
'Between The Lines' (Idle Talk)

Mod trio Idle Talk are new to the Brighton music scene. Their self-released debut track 'Between The Lines' rises against the fake within music, and it is clear from Idle Talk's lyrics that these boys mean business. We are looking forward to hearing more.
Hamilton Yarns
'2 Coins In A Fountain' / 'The Eye Of The Storm' (Hamilton Yarns)

Crackling jazz band Hamilton Yarns have been producing experimental music for the last decade. This is their 15th album release to date. Taking inspiration from the Brighton landscape and the noises found within it, Hamilton Yarns invite you for a meditative ride on their kinetic music machine.
Two Jackals
'Foxglove' (Seven Dial Records)

After a one year hiatus dark indie band, Two Jackals, returns with 'Foxglove'. The two school friends have taken the time to develop a more mature sound than we've previously heard and it's exciting stuff. The release also has a B-side, called 'Coney'. Watch them play the Green Door Store on 31st October.
Hell Beings
'You Can Live With The Leopard​.​.​. Not With The Spots' (Hell Beings)

Brazen punk trio Hell Beings have just released this nicely named single which sees outspoken guitarist and singer Mouldy unleashing some classic rock phrasings over a lolloping lo-fi guitar chug. The track is available on limited edition red vinyl from their Bandcamp page.
Cold Rice
'Cold Cold Rice!' (Cold Rice)

Cold rice isn't usually a particularly appetising dish, but this garage rock duo is an exception. Classic guitar riffs, foot-tapping drum beats, and husky vocals, they remind us early Foo Fighters and Bruce Springsteen. The highly enjoyable 'Cold Cold Rice!' EP is out now.
FS&HG
'Fabric' (FS&HG)

Brighton friends, Frankie Stew and Harvey Gunn, have released the beautiful 'Fabric'. It's a track full of bold and intelligent lyrics about youth culture, read in a poetic manner over minimalistic beats.
Words by Sarah Puttock
Photo by Ben Jules