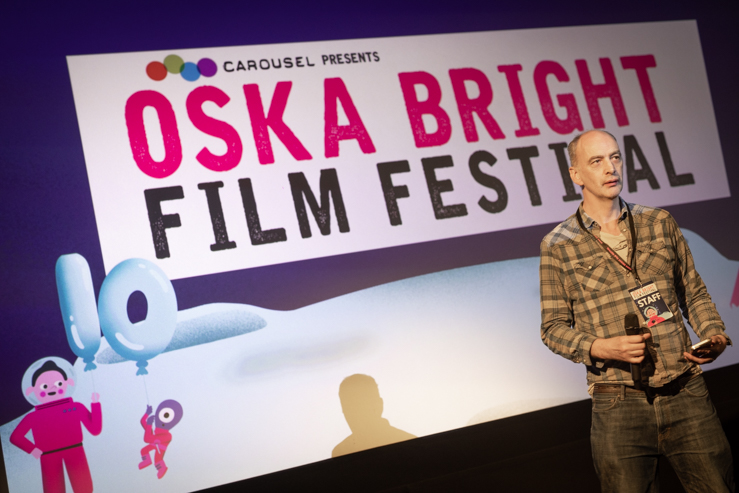 Let's just crash straight in. The Oska Bright Film Festival 2022 was a total triumph. Running for five very special days across multiple venues, the festival was ably hosted by Komedia, Fabrica Gallery, the Jubilee Library and the Depot in Lewes. Beyond Brighton there were festival screenings at the Barbican in London and cities as far flung as Newcastle and Dundee.
Curated by Brighton media collective Carousel and compered by Lead Programmer Matthew Hellett, the festival focussed on film-makers and performers who have a learning disability and those on the autistic spectrum. With an international flavour it took in productions from the UK, New Zealand, Australia, Norway, Sweden and the USA. Every screening SOURCE attended featured hugely entertaining short films that in turns delighted, shocked, amused and bemused.
With so many brilliant films to see, choosing our faves was an almost impossible task, but here goes…
The opening night at the Depot was all about queer women in film. Highlights included Australian entry Sparkles that was a blend Priscilla Queen Of The Desert meets Muriel's Wedding and S.A.M., a rebellious portrait of brotherly love and loss that almost broke the heart.
Swedish animation Being A Dog was obsidian black, both in look and tone and was more than a little unsettling. The Secret Life Of Astrid North took us on a fantastical voyage that would have have rubbed Tolkien's rhubarb (and we were lucky enough to meet the cast and crew after the showing).
Can't Stop Drawing was an unhinged lo-fi delight and Guy Harvey's Down took us on a Kafkaesque journey into the dark heart of local government red tape that would make complete, maddening sense to anyone who has ever tried to get their town council to fill even the smallest pothole.
The Q&A with animators Gemma Rigg and Miriam Fox gave an illuminating insight into their art and their process and made us want to stop at Hobbycraft on the way home to stock up on plasticine.
Festival favourite Dancing To Art was an exquisitely made piece of cinema and The Secret Life Of Tom Lightfoot was a magical and profoundly moving meditation on the human experience with some kick-ass special effects. If we were forced to choose, it may well have been our favourite film.
The climax was a glittering awards ceremony at Fabrica Gallery where gongs were handed out in true Oska style to the very best of the festival. Star power was in evidence with the presence of up-and-coming BBC presenter George Webster, who won the best actor award for his performance in the S.A.M. and also featured in the wonderfully dystopian and very political sci-fi drama BEBE AI. Then it was time to party hard as the dancing queens of Drag Syndrome took to the stage and cut some damn fine and very sassy rug.
Oska Bright Film Festival demonstrated loud and clear that people who have a learning disability, those on the autistic spectrum and anyone who is neurodivergent can be a dynamic, creative force in cinema. This creativity is too often hobbled by a society that is either passively disinterested or outright discriminatory. What this magical week in March has shown us is that given the oxygen of creative freedom, these film-makers and performers have an artistic voice as valid as anything that comes out of Hollywood, Bollywood or any other celluloid wood.
Feeling inspired by what we have seen, we break out the plasticine, find the stop-motion setting on our phone and get to thinking about Oska Bright 2023.
More info about all the films that featured at the festival can be found at www.oskabright.org