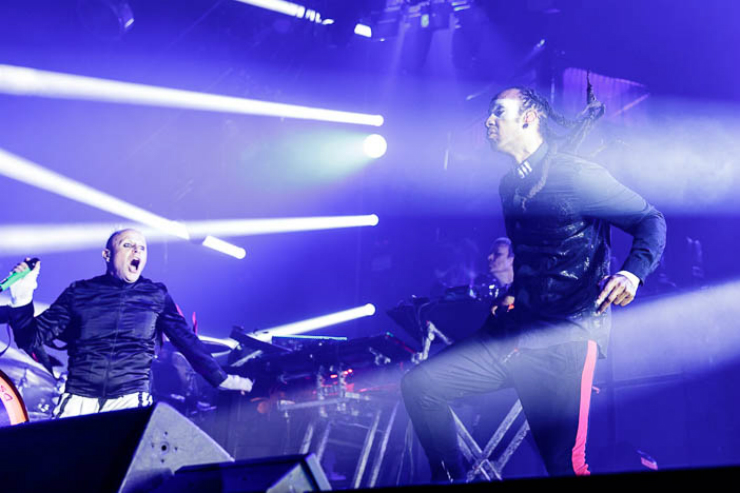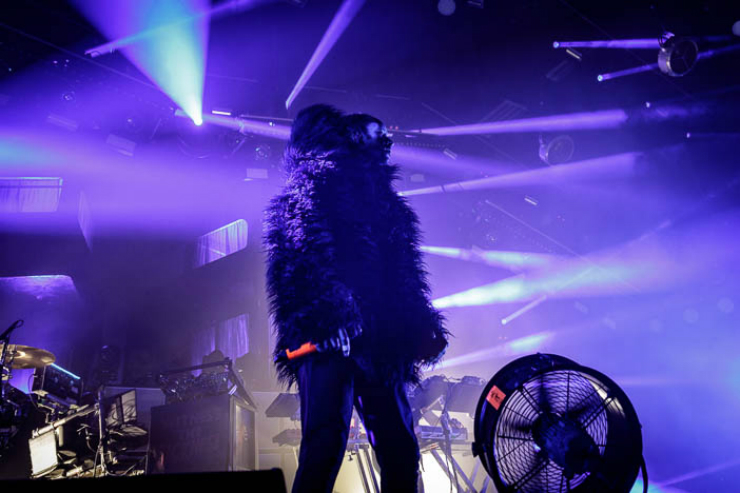 There's a timely element to The Prodigy and Queen's concurrent re-emergence into the spotlight. In December, it will be 27 years since a re-release of 'Bohemian Rhapsody' denied Liam Howlett's cherubic-faced trio a number one single before they had even released an album. They went on to release three hugely important albums, of which the latter two – 'Music For The Jilted Generation', in 1994, and 'The Fat Of The Land', in 1997 – avenged that near miss at the top of the charts. Ever since, these anarcho-punks have variously disappeared, ditched recordings (the video for 'Baby's Got A Temper', involving cow fluids and a chorus namechecking rohypnol, seemed a particular low point) and created strangely uneven records.
For all the wishy-washy critical reception their 21st century recorded output has received, The Prodigy have never lapsed live. Anyone requiring evidence of their reputation for seismic stage shows need only glance at the queues for entry and beer around this arena. As a mammoth version of their ant emblem rises with the curtain, a double-decker bus peeps out into the darkness – the centrepiece of their new album, 'No Tourists', and a fitting symbol for the industrial engineering of their sound.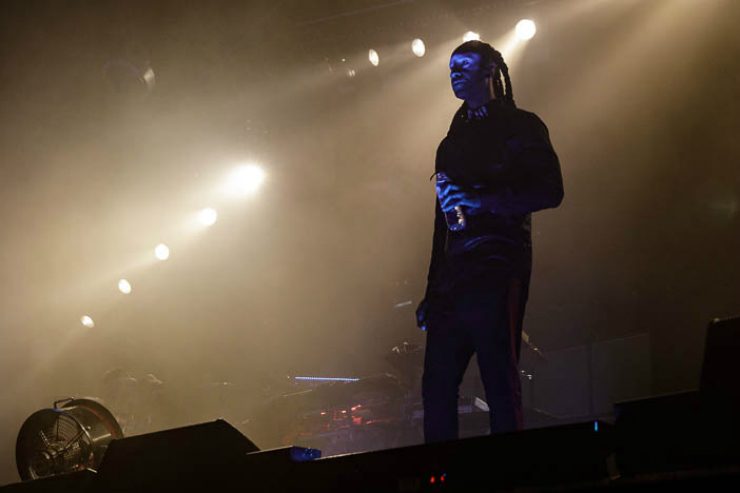 Howlett, as ever, stands fixated on those colossal beats behind a central console, leaving boom-voiced howlers Keith Flint and Maxim Reality to enter with the focused intensity of incendiary acrobats, and cause the anticipatory air of a riot. Short of a spot of cartwheeling or levitating, there are still few live pairings to match the intense physicality of these rugged yet lithe dissenters. Constantly oscillating between entranced techno-punk contortionists and pantomime villains on the prowl, you suspect they'd provide rich visual entertainment given only the speaking clock to dance to. Howlett's latest trick, though, has offered an unexpected surprise. Even if the most ardent apologist would struggle to claim that 'No Tourists' is a groundbreaking addition to their back catalogue, the tracks The Prodigy brandish from it hold their own on a stellar setlist.
These are gigantic, ceaselessly catchy rave songs, and they demonstrate Howlett's determination to dispense with the blandness he speaks so witheringly of in dance music, delivered with his usual sledgehammer approach. Lyrically, 'We Live Forever' veers too close to generic bluster for comfort, but its build-up and explosion are a pure adrenaline rush on a grand scale, with Flint and Maxim as ringleaders of the raucous mob. Pleasingly for revivalists, parts of it are clearly derived from the same scattergun sampling and vocals as many of the band's earliest tracks, including that runner-up to Queen, 'Everybody In The Place', which resurfaces to spectacular effect. The nostalgia flows like molten for those who bought it first time around, but Howlett has re-armoured its live guise for a new generation of clubbers, and it's a highlight of a unifying, thunderous two hours that flies past in a frenzy of fists-up, crashing breaks under a surge of lasers.
If there's a sense of poignancy in hearing decades-old songs sound as inimitably great now as they once did in rooms with low ceilings, there's a distinct lack of time to pause for reflection. Live guitarists, styled and firing off chords with hefty rock theatricality, boost the uproar of 'Voodoo People'. The sheer power, as well as the relentless run of irresistible singles The Prodigy sequence, catches you off guard, and there's some relief to be evinced upon noticing the giant circular fans refreshing Flint and Maxim from the perimeter of the stage.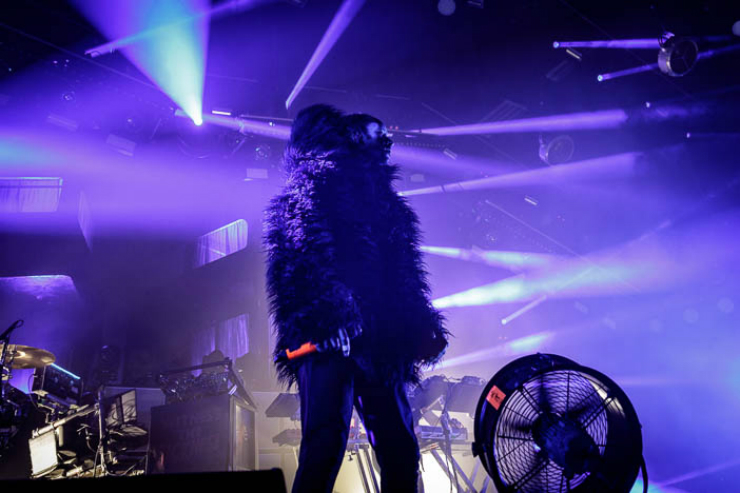 There's an inevitable train of thought that The Prodigy come from a rave scene diametrically opposed to modern arenas, and that the cartoonishly primal dance of tracks like 'Breathe' – their big-statement opener here – comes from an underdog identity forged in fields, squats and dive bars. It's a view Howlett subscribes to, but he's finally struck upon a formula intertwining that legacy with a newfound purpose and energy. In the dazed aftermath of its delivery, that seems like no small feat.
Brighton Centre, Monday 5th November 2018
Photos by Sam Sesemann
Words by Ben Miller