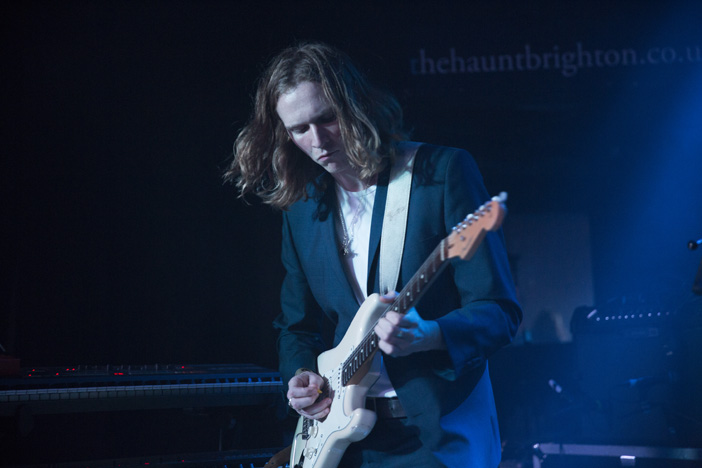 It's a Saturday night in Brighton, and we're soaked to the bone before we even arrive to see The Blinders at the Haunt. It's a gig that we've been whiling away time for in the same manner that one does when clock-watching for 5:30pm on a Friday. It just can't come soon enough, so a little rain won't sodden our spirits.
The Doncaster three-piece hit town for a second time this year, following their show at Sticky Mike's back in February. So what's changed since then?
Quite a lot as it turns out. Their debut album, Columbia, was released in September and has been in our headphones constantly. Those commutes into work seem far more palatable with your eyes gazing into the distance, ears resonating to the sound of the fight against an Orwellian future. The next station is… 1984.
On to the show. We catch the tail-end of Brighton's Swoon. They say they are 'Socio-political electro-punk', but sounded more akin to Paramore to our (untrained in this genre!) ears. Dark sounds with beautifully strong female vocals, they've supported Pussy Riot recently and sounded big – check out more here.
We've been looking forward to this gig for an age, and excitement turned to childish glee when we found out White Room were supporting. They've got history with The Blinders (we spoke to White Room about the two bands' love-in when we interviewed them at Reading Festival last year) and it's great to see that the camaraderie continues.
White Room have well-honed, hip-shaking grooves that are epitomised by new tune 'Shoot'. Rising synths break into juddering baselines that make shoulders shake and hips sway. Frontman Jake Smallwood leads the line with a sharp white suit, and with Aladdin Sane-esque eye-shadow, cuts the dashing figure of a true frontman. This is well and truly matched by a 'death stare' into the crowd – no shying away here.
'Cable-Built Dreamland' is a tune that seems to sound bigger every time we catch them live, but it's 'Cannibal Song' where White Room really get the bit between their teeth. Delightfully playful, deft lyrics give the song real imagery, and by the time the chorus is in we see the crowd kicking off for the first (but certainly not the last) time tonight.
Finishing with 'The Blue', it dawns on us that we know a lot of these songs inside out by now. There's a reason they're one of our fave local acts after all, and the psych/synth partnership live on.
With lights dimmed and a wall of feedback that slowly gives way to some super-creepy Willy Wonka music, there is electricity in the air as we wait. With the release of 'Columbia', The Blinder's have seen larger and rowdier crowds, and frankly being stuck at the front of the Haunt with camera in hand is daunting enough at quiet gigs. We correctly assume this will not be a quiet gig.
As expected, the set kicks off with album opener 'Gotta Get Through'. This is as good an intro to the band as any for the uninitiated – pounding drums, the odd wail and then a searing riff that conjures the spirit of every Spaghetti Western ever made. Within seconds the crowd surges, and we're ducking to avoid the end of Charlie McGough's bass in our face. Turns out we get some pretty nice angles while we're down there!
The setlist is similar to when we caught them back in February, the difference being the familiarity, now 'Columbia' is with us. It's interesting to see just how the tunes go down with the Brighton crowd – the soaking from the rain is soon replaced by the delicious, unsavoury sweatiness that comes from a good dose of rock'n'roll.
You can cast back to our earlier review and preview to get the backstory on the ferocity and vitriolic drive that gives The Blinders their snarling edge. Needless to say, they have lost none of it, and their drive sets them apart as one of the best live bands in the UK right now. We'd say they're knocking on Idles' door on this front, which in our eyes is as big a compliment as you can get.
'Where No Man Comes' has us "doing a White Room" (aka shaking our hips), and translates from the album into a skulking beast of a tune live. Next comes 'Free The Slave', a precursor to perhaps our favourite tune 'I Can't Breathe Blues'. 'Et Tu' is in danger of becoming our new favourites as well – a track born for the mosh pit.
Frontman Thomas Haywood is mesmerising, contorting and twisting throughout; his custom face-paint doesn't take long to disintegrate. His guitar can't keep pace either – several unplanned changes throughout the set are seamlessly covered – you get the feeling their crew know what to expect by now.
Almost all of 'Columbia' made the set – 'The Ballad Of Winston Smith', a softer moment from the album, dropped, presumably as it would have been out of kilter with the rest of their high-octane set. 'Swine' and 'Ramona Flowers' also make welcome appearances.
Short of listing every song, another way to reflect on how a gig went is to think about how it made you feel afterwards. We expressed our feelings mostly by grabbing our mate's face with both hands, shaking it with far too much enthusiasm, while yelling 'fuck yes' in his face.
Vive la Blinders.
The Haunt, Saturday 10th November 2018
Photos and words Ashley Laurence