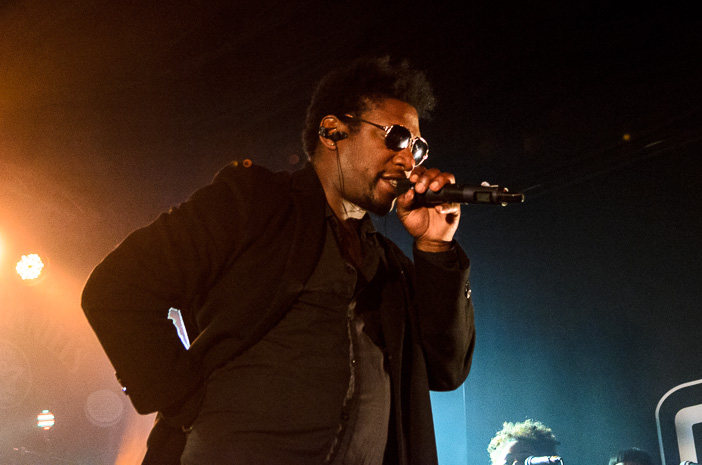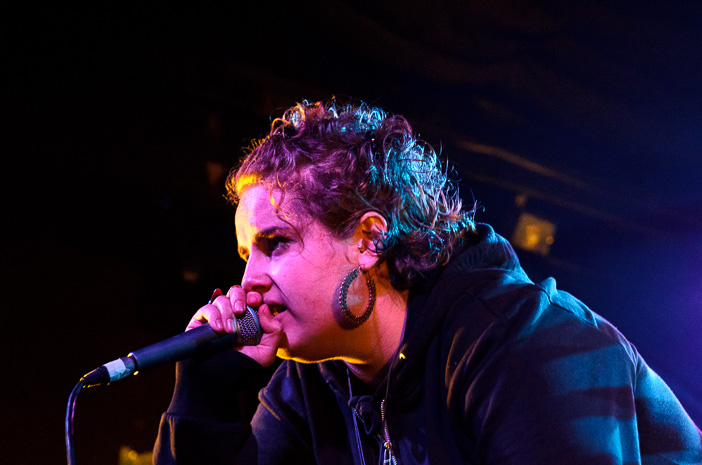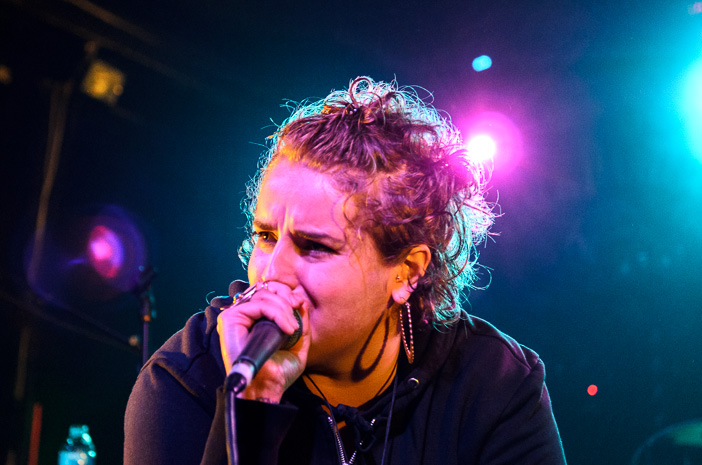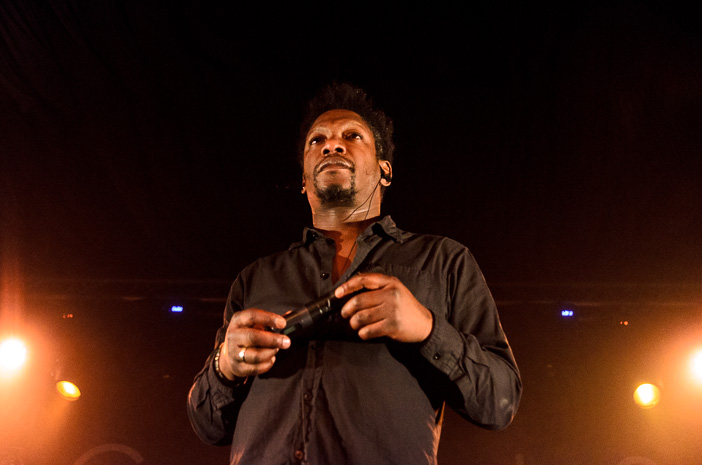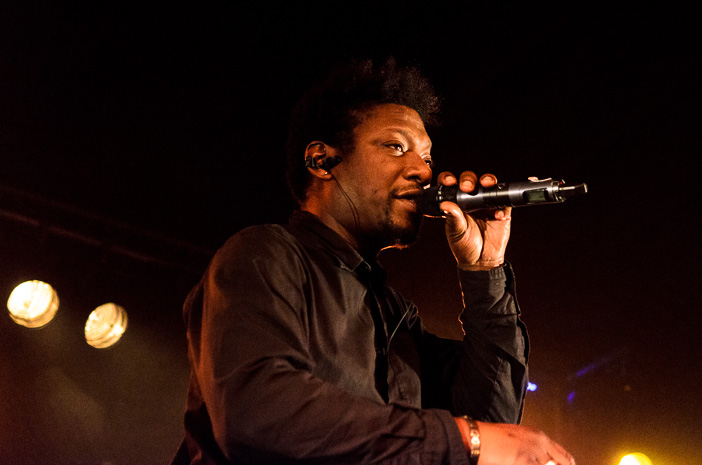 Tonight's sold out show is testament to the kind of status enjoyed these days by Rodney Smith aka Roots Manuva. Last year's LP 'Bleeds' is arguably his most challenging to date, both musically and lyrically, yet it's this need to redraw his own boundaries with each record that's enabled him to transcend the limitations of genre and reach a much broader audience. More than a rapper, Roots Manuva is an artist and producer responsible for sculpting his own, completely unique sonic identity from day one.
Tonight, sadly, he's very clearly struggling to keep it together. His proclivity towards vice is something he's explored unflinchingly on record and it's clear from the very outset that tonight's not going to be easy for anyone.
First of all, though, an honourable mention to Bobbie Johnson, who, faced with the unenviable task of warming up a stiff, Monday night crowd, more than delivered. Tonight the Brighton rapper played to her biggest audience yet, commanding both stage and crowd with preternatural self assurance, bravely leading the audience in a call-and-response at one point. "Don't make me look like a dick head up here," she implores. In lesser hands, what follows should be an exercise in public humiliation, but she's won this crowd over and they oblige willingly. In a set that references 90s New York hip hop and UK grime it's an impressive showcase of her versatility and ability as an MC.
The confessional and personal nature of the music that Rodney Smith makes as Roots Manuva means it's impossible to separate the art from the artist, and so, exhausted and dead-eyed, it doesn't seem too wildly speculative to say that tonight's indulgence isn't the result of having too much fun.
Smith has talked a lot about his complicated relationship with mental health and creativity. Last year's 'Bleeds' was a claustrophobic and occasionally harrowing listen and there were enough allusions to ailing mental health to warrant cause for concern. The tortured artist trope is a tired and unhelpful one but there's no escaping the sense that there might be a heavy price for this kind of creativity.
While the syllables sit lazily in roughly the right places, the words are slurred and drawn from muscle-memory; there's very little of him in the room this evening as the band take us through a mercifully short set that includes 'Hard Bastards' and the Four Tet produced 'Facety 2:11', both standout tracks from the new record.
There are moments of near redemption. The opening bars of 'Movements' sound as fresh tonight as they did in 1999 when a nascent UK rap scene was struggling to find its own voice. In the clamour of British rappers beholden to their American counterparts here was a voice that revelled in its idiosyncrasies; a singular and enduring talent that stood apart from those whose identity crises would prove terminal.
Miraculously, despite several attempts to leave the stage early – foiled only by a vigilant member of his team waiting in the wings – Roots Manuva returns for an encore. 'Witness The Fitness' is easily the weirdest song to ever achieve anthem status, but it's unifying, and the crowd, whose hostility has on occasion been palpable, are showing some signs of forgiveness.
We later learn that the rest of the 'Bleeds' tour has been cancelled, presumably leaving this Brighton show as the last one for quite a while.
Concorde2, Monday 29th February 2016
Words by Liam McCreesh
Photos by Mike Tudor