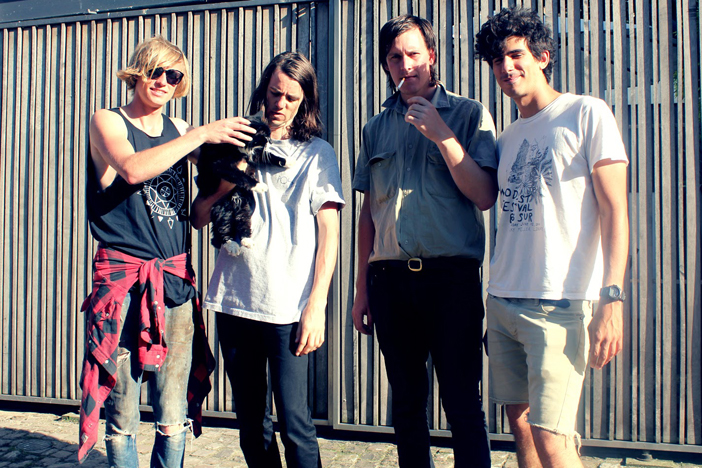 26 years to the day since Australian television broadcast the wedding of Neighbours' most famous couple, their grunge pop namesakes arrived in Brighton for the first time. Led by actual Aussie Craig Dermody, a former resident of the Melbourne home of Neighbours, Scott & Charlene's Wedding are here for a packed 24 hours of shows. Last night found the New York based band supporting Mission Of Burma at the Haunt, and today has already seen them film a live session for Bowlegs and fit in a quick free gig at yoghurt store Lick.
As the effortless slacker rock of new album 'Any Port In A Storm' suggests, the band are way too laid back to appear fazed by this promotional whirl, slouching amiably onstage to soundcheck their way through the relaxed strum of 'Spring Street'. People are already creeping in to listen, so the band slide straight into the gig proper and the spiky, needling riffs of 'Downtown'.
Dermody's a supremely casual singer, delivering his lines with a wayward approach to pitch that belies the sharply observed content of his lyrics. Older songs 'Footscray Station' and 'Epping Line' (two train themed tracks from his 'Para Vista Social Club' debut) mix Dermody's smalltown frustrations with a yearning optimism, while newer songs like 'Two Weeks' and 'Gammy Leg' let in brighter levels of self-aware humour and chiming Go-Betweens guitar lines.
The current band (Dermody uses different line-ups depending on the country he's in) smother the songs in sympathetic fuzz and Crazy Horse soloing, peaking with the ragged, rapid 'Jackie Boy'. Then, unexpectedly, they're done. Eight songs and off.
It's frustratingly brief, half an hour tops, but time's drawing in. Having caught different sets at the Haunt and Lick we know Scott & Charlene's Wedding have got lots more songs readied than they play tonight. Hopefully next time we catch them on their never-ending European tour, they'll play the lot. This evening's show did end rather, well, suddenly.
Green Door Store, Tuesday 2nd July 2013
Words by Stuart Huggett