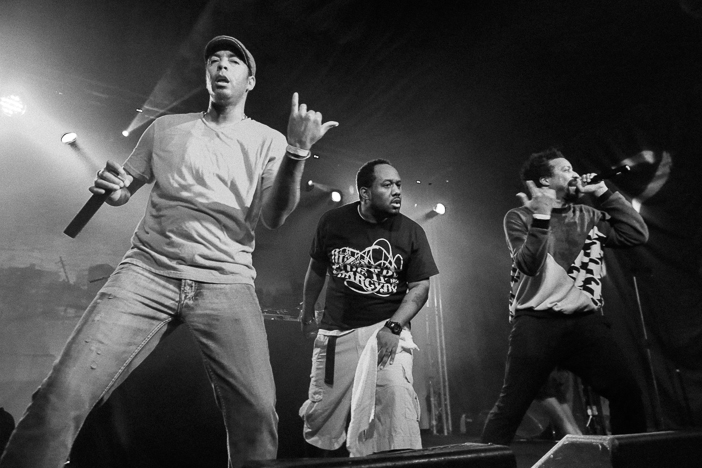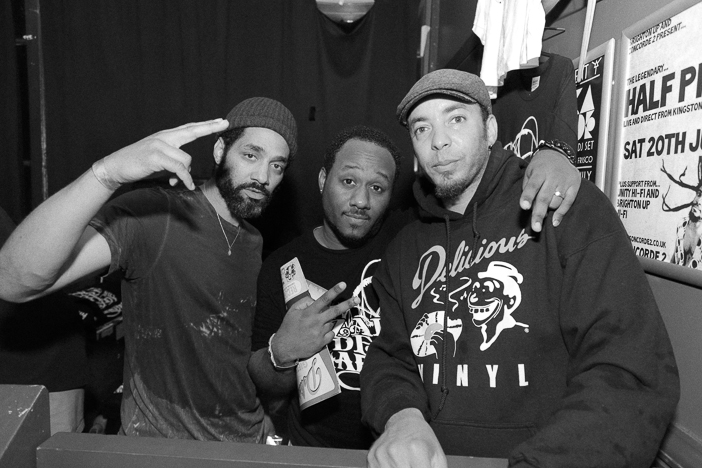 We're lucky here in Brighton, especially when it comes to hip hop. Following the Ultramagnetic MC's performance on Saturday, The Pharcyde were the second legendary hip hop act hitting the Concorde in three days – playing a 21st anniversary show of their classic 1992 album, 'Bizarre Ride II: The Pharcyde'.
When they first came out in the nineties, The Pharcyde's music stood out. Composed of dusty soul samples and deep lyrics, it offered an interesting alternative form of rap music. Having since toured in numerous countries, the group have perfected their live show – giving the recorded tracks an exciting new energy in a live setting.
You only had to see a minute of the show to recognise that The Pharcyde's on-stage chemistry was impeccable. It seemed perennial and effortless. In addition, this was the first hip hop gig in Brighton we've seen to make good use of the visual projector in the background, adding another dimension to the show.
Opening with 'Oh Shit', The Pharcyde engaged the audience from the start, encouraging heavy crowd participation. This was maintained throughout the night, but most evident during the organ-tinged 'Ya Mama' – a performance that featured seismic jeers and even a cheeky stage dive.
During 'Return Of The B Boy', they invited all of the people who thought they could breakdance up onto the stage. Although most of them failed to impress, The Pharcyde didn't require the help of these clowns to stupefy the lucky Concorde audience.
After rattling through the classics on 'Bizarre Ride II' and explaining why "Dublin was dope", they ended their show with a couple of tracks from their 1995 album, 'Labcabincalifornia'. The tracks were produced by the late great J Dilla – who many believe was hip hop's most influential producer. 'She Said' and 'Drop' took the crowd to a state of abiding nostalgia, but it was the final performance of 'Runnin' which epitomised how wondrous a hip hop gig can be.
With several big festivals on the agenda this year, there are plenty more crowds out there who are due to be astounded by The Pharcyde's blistering live show. With this final leg of their tour they have reinstated their status as one of the most exciting live hip hop acts around.
Having done 20 gigs in 21 days, tonight was the last show of their UK tour and it once again proved that this seaside venue is the south coast's home of hip hop. They came, they saw and they Concorde.
Concorde2, Monday 8th July 2013
Words by Jack Dutton
Photos by Josh Redfearn Photography