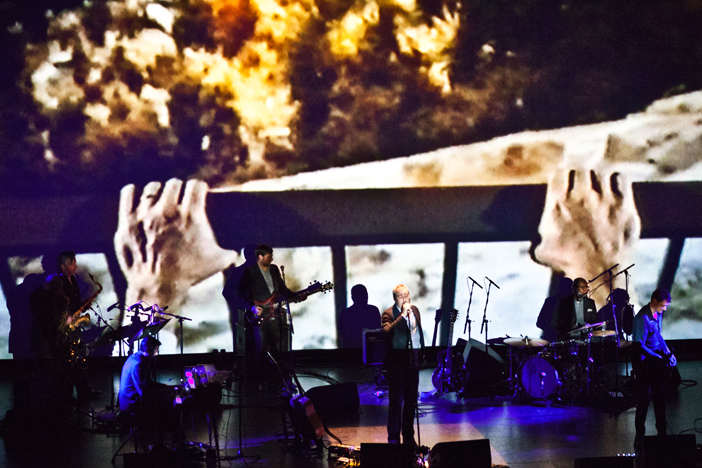 Reverence can damage gigs, and for some fans who weren't just speculative festival goers at Tindersticks' Brighton Festival show, the need to treat their idols like demi-gods occasionally spoiled things, even letting the band off the hook at points.
The show was billed as a 'cine-concert,' which basically meant the latest album, 'The Waiting Room', would be played in full against a backdrop of unassuming, often abstract footage (think balloons, traffic, a man lost in a French train station, arcades). A 45-minute set before and an encore completed the trio – but it was the visual element the Festival had flagged as the main draw.
Of course, now over 25 years into their career, the band had ample material to draw on. 'She's Gone', from 1995's second album, was as far back as they dug, and it was indicative of the mood of the songs they played. Slow was the buzzword – even for a Tindersticks concert. When the pace did pick up, as on 2008's 'Boobar Come Back To Me', you got a glimpse of the band that made the sexy swagger of 'Simple Pleasure' and the fun of 'The Hungry Saw', and ever the sulky bombast of 'Curtains' – but such moments were brief.
Naturally, determined by its album's tracklist, the cine section of the show was also sombre in the extreme. Both of the tracks on which leader Stuart Staples' magnificent voice is matched by a female co-vocalist found him singing both parts, and so the texture remained fairly similar throughout. 'How He Entered' found him speak-singing from a crib sheet, and was a welcome pace change, while the sublime 'Planting Holes' was wafer thin, played on just organ and cymbals.
But as mentioned, those uber-fans let the group down. Continued bellowing of "We love you!!!!!" and "Brilliant!!!" between already deathly quiet numbers' outros grew to be a bore (we're looking at you, centre stalls), and – we shit you not – one guy decided that the slow shrug of 'Second Chance Man' was a good time to take a phonecall. Factor in the element of people continually trudging out up the Dome's wooden floorboards after about an hour, and the task at hand for anyone who just wanted to listen grew harder and harder.
No one expects everybody to like everything at Brighton Festival, and kudos to anyone who did fork out £20 on a punt. But such a stark choice of songs, coupled with a, errr, colourful audience, made Tindersticks' third Brighton gig in eight years mildly unsatisfying – and it wasn't entirely their fault.
Brighton Dome, Sunday 8th May 2016
Words by Jake Kennedy
Photos by Gili Dailes