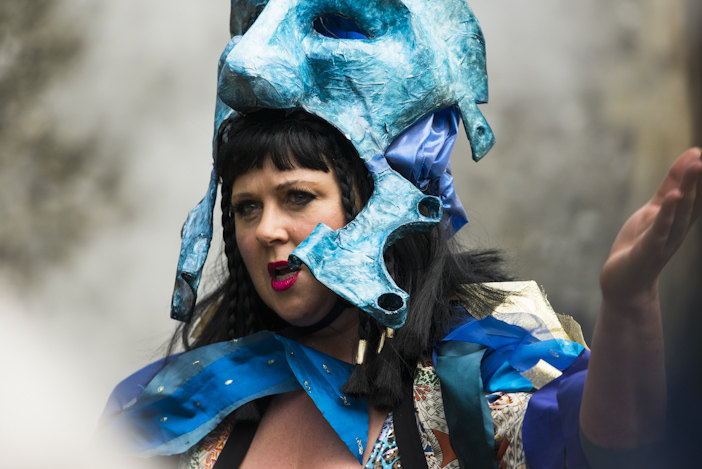 Here's our third week of Brighton Festival and Fringe coverage. With The Great Escape in town (see our reviews here) a continued onslaught of Festival and Fringe shows and the weather finally clearing up enough to make full days of beach and Spiegeltent boozing a reality, it's been a blast.
Guy Wah
Sweet Waterfront 2, Weds 17th
"I went to London, it was shit!" sings Guy Wah bouncily during a one-hour comic monologue about the banality of 'professionalism' in modern working life. Subtle it is not. Wah has his work cut out in a tiny room of very obviously shy people, and he keeps the energy up as best he can. It's a solid, well-plotted show, demonstrating through observational anecdotes drawn from personal experience that the truth is indeed stranger than fiction. It's amusing enough, yet this is a show that provides wry smiles only – no belly laughs or killer lines. The lack of any improvisation or audience banter makes us feel at times like we're watching a lecture, complete with sound clips and slides. The room doesn't help. Sweet Waterfront is a small windowless function room in Jury's Inn which underscores the vibe of a corporate training session. Wah can't win, we feel, and it's a shame because this is a show with potential. In a better room with a livelier crowd it might have all been very different. (PF)
No Dogs, No Indians
The Spire, Weds 17th
Firstly, a well-deserved shout out to The Spire. If you haven't been here before, you really should. It's an old church with an exceptional atmosphere; haunting and refined, with great acoustics. No Dog, No Indians was part of the Brighton Festival, and was a world-premier for Siddhartha Bose's new play, which celebrated seventy years of Indian independence. Telling three thoughtful stories from different generations, this play had the makings of a classic, but unfortunately, at over three hours including the interval, was too long and meandering to maintain the audience's attention. There were themes of family, history and fate, drawn together by some entertaining if not overly personable characters, and the set, lighting and acting are good, but there's an overall lack of purpose to this production. (JMM)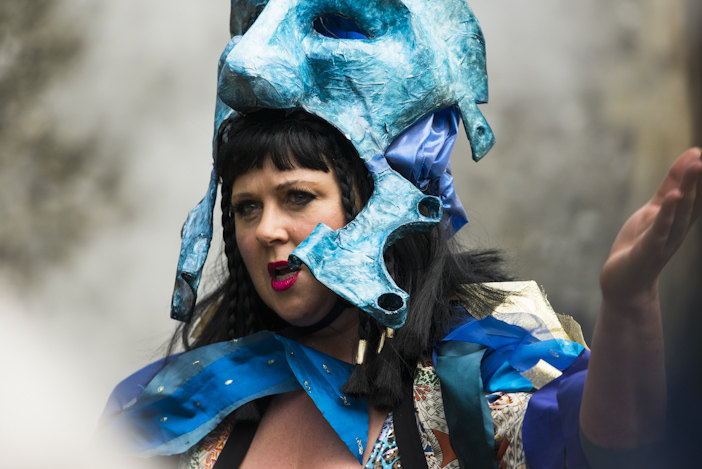 La Llorona
Preston Manor, Weds 17th
This is fantabulous theatre with a stash of treasures at every step. Upfront in this epic is Mexico's most haunting myth, La Llorona, the weeping indigenous woman who drowned her children. The narrator hints that Spanish conquistadors or collaborators may have spun the story. So the play starts with shamans and rituals. This tale weaves in Rosita, a cipher for a modern-day Llorona, who migrates to Texas in search of work. She must leave her child with the extended family in Mexico. But US life is brutal. Pretty soon she feels like a slave. We shift into a magic realist world through netting and jaw-dropping puppetry. Projected images summon monarch butterflies migrating to the USA, brash urban Texas or a coven of crows. This site-specific work is inspirational in choosing Preston Manor, where wooden beams and stone evoke the Mexican colonial house. Musicians accentuate the mood from acoustic guitar to frantic percussion. La Llorona is a work of exceptional ambition, still under development. At times there may be too many words. But it must scoop the Golden Sun award for imaginative leaps in every theatrical department. (MA)
Virgin Territory
ONCA, Thurs 18th
Moments of intrigue meet moments of cringe in 'Virgin Territory', a frustratingly uneven piece of video art by Vincent Dance Theatre ruminating on the potential dangers of the online world. An unshaven male 'online predator' appears behind chicken wire, snarling and miming to dog barks. Later he reappears dressed in a blonde wig (his online 'disguise', we guess), dancing frenetically. Such imagery feels forced and clunky, which is a shame as other parts of the piece manage to be vital and engaging. We find ourselves instantly gripped by the tale of 'Sweetie' the CGI honey trap character who ensnared an avalanche of online paedophiles. We are utterly humbled by the testimony of the rape victim, so measured, dignified and calm. Some of the dance imagery is great too; there's a brilliant sequence about body image, funny and surreal, in which players dance with balloon boobs, bums and biceps stuffed into their garments. At 45 minutes long, we just feel this piece lacks a brutal edit. (PF)
Bom-Bane's History of 24 George Street
Bom-Bane's, Thurs 18th
We've got a soft spot for Bom-Bane's. Every year, Jane Bom-Bane and her merry band of multi-talented staff members put on a themed evening of entertainment, with puppetry, original song, music, art and a three-course meal. This year's theme was the history of the house, 24 George Street in Kemptown, which meant the attendees were led on a well-researched, detailed historical jaunt around the building, with old occupants and local characters brought to life. Bom-Bane's is hard to explain: it's quaint, touching and authentic, often magical, but never twee. If you haven't been yet, you're missing out on this Brighton treasure. (JMM)
Fragments From Your Workplace
Broadway Lounge, Thurs 18th
This is a wicked comedy about the corporate life in 60 minutes. It starts with the job interview. You have proven ability and a strong administrative background? You have a plethora of transferable skills? Or perhaps you just love spreadsheets? Next up is the motivational video (by Hester Underhill). The six step programme will convert your miserable two-bit business into a trillion-pound enterprise before Christmas. Check the ticker tape for nearest venues: Pease Pottage Conference Centre? The conference committee – suitably distracted and bureaucratic – doesn't bite as much as earlier scenes but we're already well satisfied. Body language and facial gestures from the four actors are impeccable throughout. A few chairs and tables are all we need as props. Fragments, confidently directed by Sofia Rendall and Katie Sassienie, is a must for wannabes contemplating a business career. The Fringe brochure calls it satire. That's a joke. It's real life! (MA)
The Privileged
The Warren, Fri 19th
With hundreds of shows on at the Brighton Fringe, often for free or a low entry charge, it's worth taking a punt on a few you haven't researched. Yes, sometimes they're awful, but sometimes, like The Privileged, they're far beyond anything you could have expected from the scant online literature. Without giving the game away, this interactive performance started with high spirits, jokes and fancy dress, and ended with some significant soul-searching from the audience members. It's moral, but individual, and brilliantly conceived and executed. The Privileged will stay with you. (JMM)
Brighton Killers
Old Police Cells, Fri 19th
The creepy Old Police Cells beneath the Brighton Council buildings have been preserved to serve as a museum and theatre space, and little has changed down there over the decades. There's a natural chill and an air of tension, and throughout the play the audience members are led between vaults and chambers, making the experience fittingly uncomfortable. With the actors in character throughout and clad in ornate costumes, this performance uses elements of the ghost story and hints at a guided tour, but mostly it tells the true crime tales of Brighton murderers with camp, grisly relish. This is a great show to see if you're into local history and enjoy twisted, gruesome facts. (JMM)
Frankenstein: Man or Monster
The Warren, Sat 20th
This hour-long performance took the traditional story of Mary Shelley's Frankenstein, made it modern, and used it as a lens to explore a myriad of mental health conditions. It did this with comedy, song and a one-man cast. If that sounds confusing to you, you'd be right. The concept was a bit ambitious to be squeezed into a short show, with so many depthless characters and seemingly randomly chosen health conditions. Conditions such as bulimia were pushed in without adding to the plot, and the ending was unclear, and though the songs were fun and engaging, they didn't really suit their characters. As a show it didn't work, but as a rambling voyage through mental illness and a demonstration of the confusion and contradictions this can create, it was spot-on. (JMM)
Hurricane Michael
The Warren, Sat 20th
A devastatingly funny whirlwind of a comedy based on the most classic of British topics, Hurricane Michael was one of the best shows we've seen this year. Crafting an imaginary background for the iconic weatherman, Russell Layton plays the role of Michael Phish, and his script is fast-paced and packed with nostalgia. If you lived through the 80s, there's probably more here for you than for the younger audience members, but even if you don't have a clue what he's referencing, Layton's rampant energy will keep you laughing. Cramped on a stage that was definitely too small for his ego, Layton's Phish was mesmerising. If you like your comedy character-based and clever, your jumpers pastel and your puns relentless, you'll love Hurricane Michael. (JMM)
Alice Marshall: Blood
The Warren, Sat 20th
A one-woman comedy skit show, this hugely popular offering had Alice Marshall playing a variety of characters with unusually sharp skill. The skits are interspersed with short videos, loosely based on Marshall's characters' quests for love, though the approach is more dark and nasty than hearts and flowers. Her delivery is intense and her characters are cleverly chosen and brilliantly executed, particularly Simon, the relentless, dramatic bird seeking a mate. The show falls down a bit at the end, with dorky Louise. The comedy world has enough girl geek characters with bad hair, who smear lipstick on their faces and want to get married; Marshall's better than that. (JMM)
The Elephant Girls
Rialto, Sun 21st
Maggie Hale, the fiery, brittle narrator of this piece spins a wild, riveting story of theft and blackmail, prison, love and loss in a seventy-minute monologue about The Forty Elephants, a notorious London girl gang of the 1920s and 30s. Written and performed by Canadian Margo MacDonald, The Elephant Girls is theatre at its best – conjuring an entire world from minimal props and stage set by force of a virtuoso solo performance which, barring an occasionally wonky London accent, is downright inspiring to watch. After the performance we learn The Elephants were a real pre-war crime syndicate, which adds a layer of authenticity and intrigue to the story we've just heard and, like all the best art, sends us scurrying away to find out more. (PF)
Rich Hall
Theatre Royal, Sun 21st
Growling raconteur, grumpy uncle, tough drinking buddy and stetsonned Americana comi-musician, Rich Hall wears a few more proverbial hats than the grand cowboy one he wears on stage. Tonight, the scowly storyteller, ranter and musician – bringing with him an accomplished and versatile country band – spends the first half indulging in the imagery he does so well: a cat scan, he says, is like being in an open casket with a Norwegian death metal band. There's a long, unapologetically obvious and excellent stretch about the new president of his homeland and some tremendous demonstrations of Hall's capacity to remember diatribes. But none of it's as surreal as the musical second half, not least when a riff about Theresa May ends in a loud and possibly dubious accusation of misogyny from the stalls, causing the atmosphere to turn unexpectedly feral. It suits the comedian's anarchic style, his country twanglers encompassing the tale of an ageing greyhound struggling with the dawning realisation that, as the chorus has it, they have spent their entire career chasing little more than fur on a stick. And a double-edged tribute to Bob Dylan ("I went to see him – I wanted everyone's money back") ends with some pointed and strangely pleasing incoherent harmonica parping. (BM)
Adam Buxton's BUG
Brighton Dome, Tuesday 23rd
It turns out Adam Buxton's comedic homage to David Bowie took place on the same day that the singer himself played a riotous show at Brighton Dome 44 years ago. It's surprising our host wasn't already aware of the coincidence given how many other obscure and fascinating facts he's collected about the man. Buxton is a comedian and a radio presenter; he's also a bit of a geek and a total fanboy. These roles interweave to produce an unusual mixture of documentary, tribute and spoof. Buxton takes us on a personal and slightly random tour of Bowie's lesser known work, the videos that everyone forgot and the dodgy 80s stuff that nobody really liked. The biggest laughs of the night come off the back of the moronic YouTube comments that Buxton has singled out for ridicule, but the show is funny throughout. A version of it came to Brighton Festival last year, but Buxton has added some new elements to keep it fresh – including a hilarious animated anecdote about a man walking his dog on the beach during the video shoot for 'Ashes To Ashes'. What's impressive is that even when Bowie is butt of the joke ("some cunt in a clown costume"), he still somehow comes out seeming like a decent chap as well as being impeccably cool. There aren't many musicians you could delve into with this degree of detail and still leave so much out. (BB)
Next week we'll be reviewing the glittery mayhem that is Disco Lovers at the Spiegeltent, the real-life riotous sketch show Siblings, the highly acclaimed Kneehigh Theatre's take on folk legend Tristan and Yseult, and more.
Photo by Francesca Moore
Words by Ben Bailey, Ben Miller, Jessica Marshall McHattie, Mike Aitken and Peter Field
See more of our Brighton Fringe and Festival reviews:
Week One, Week Two and Week Four