A collection of antique Japanese woodblock prints, long held in the archives at Brighton Museum, goes on display for the first time this week. Ukiyo-e, or 'floating world pictures', evoke the transient nature of urban life in Edo (now Tokyo) during the 18th and 19th centuries. This densely populated metropolitan centre was home to so-called 'pleasure quarters' filled with teahouses, theatres and brothels.
The prints depict actors, courtesans and geisha from the streets of Edo, in addition to romanticised views of the Japanese countryside with its equally transient, changeable seasons. Woodblock prints, hand-carved and hand-printed, were affordable to the merchant class, easily disseminated, and became highly popular. With their simple colour schemes, decorative surfaces and flat outline shapes, ukiyo-e developed their own visual conventions and distinctive style, becoming a precursor to modern manga.
Japan was, during this period, closed to all foreign immigration and, save for one small gateway in Nagasaki, closed to all trade. As a result, these prints managed to develop almost completely independent of the influence of Western Greco-Roman visual traditions, retaining a flavour that is undeniably Japanese. (Indeed when ukiyo-e began to circulate in Europe, the flattened perspectives and stylish compositions had a direct influence on Western Modernism.)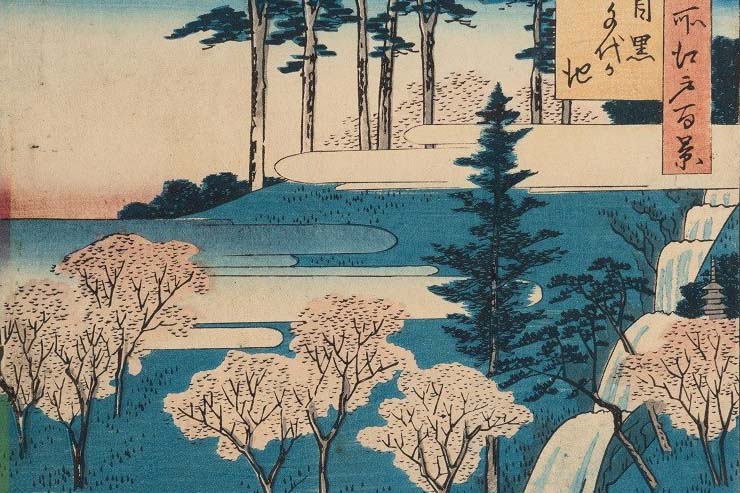 This engaging two room exhibition is laid out thematically, inviting viewers on an imaginary journey from the heart of the pleasure quarter in Tokyo, progressing out into the countryside. The artworks are tastefully presented, in minimal white mounts and pale wood frames, giving a restrained Zen quality to the overall hang. Though well annotated, the wall labels also avoid getting too bogged down in the historical context. The artworks essentially speak for themselves. They are truly dazzling, and as such they need little more by way of explanation.
Walking round, we are impressed to think that Brighton has owned this treasure trove for so long – it' s a privilege to finally see it. Each one of these pictures, carved from wood, back to front, with a separate block for each colour layer, is a virtuoso performance technically. The visual ambition is extraordinary too, as the artists seek by simplest means possible to evoke ephemeral natural phenomena like mist and rain, or fleeting visual effects like fireworks. Elsewhere the carved lines mimic fluid ink brush calligraphy or zig-zagging patterns on fabric, while never losing their overall sense of restrained colour and purity of expression.
This collection is nothing short of an absolute masterclass in composition and execution. Better still, entry is free to all Brighton residents who bring proof of address. Check the museum website, too, for details of a range of free events, including mindful yoga, meditation and a poetry reading.
Floating Worlds: Japanese Woodcuts, Brighton Museum and Art Gallery. Until 12th January 2020.
Images copyright Royal Pavilion and Museums