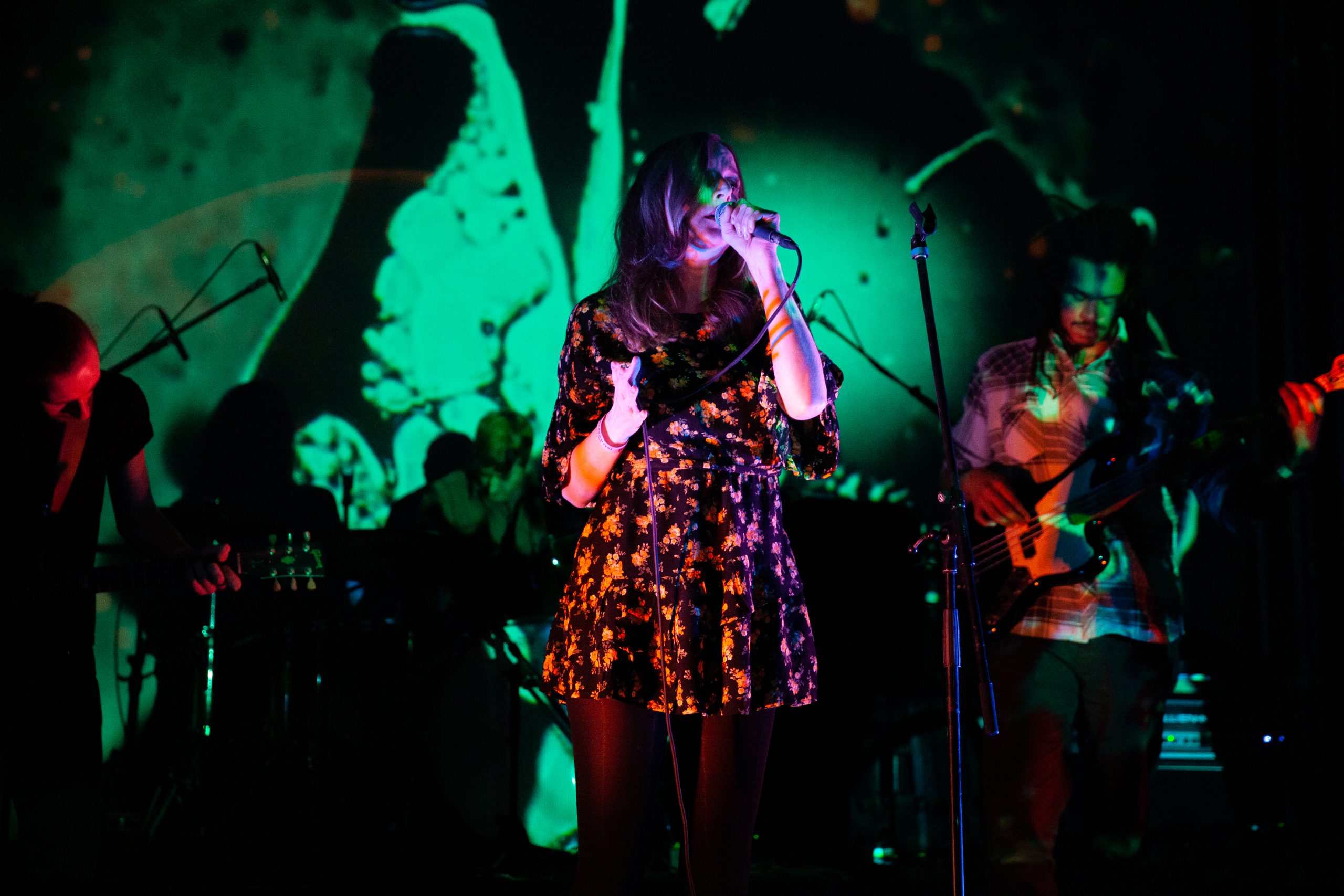 They say January is the month for dreaming, and on one particularly glorious Saturday last month, dream we did. On 18th January, the SOURCE jumped the train and escaped the bright lights of the city for an evening of visuals and music for the senses at the Lewes Psychedelic Festival.
An unstoppable force of cosmic nature, now in its 11th year, the LPF was co-founded by Chris Tomsett aka Innerstrings (more on him later) and Richard Norris of The Grid, The Time & Space Machine and Beyond The Wizard's Sleeve fame. Over a decade on, Tomsett is still at the helm alongside stalwart Brighton promoter Anna Moulson of Melting Vinyl. LPF has gone from strength to strength in recent years and it is a testament to the reverence felt towards the festival that it sells out promptly within a few days of tickets going on sale.
The sun has set on a beautiful winter's day by the time we arrive at the dramatic and gothic All Saints Centre, a one-time church dating back to the Middle Ages. Tonight's faithful pile in with palpable excitement through the cemetery gates, gravely reading the stones as they go, while the slow murmur of distortion and tentacles of reverb-soaked vocals stretch out into the shadowy churchyard.
The murmur within reveals itself to be the sound of Holy Magick, the Brighton-based psychedelic dream-rock band featuring producer Dom Keen (ex-Death in Vegas, Dark Horses) and singer-songwriter Siobhan Lynch, whose siren-like vocals sit atop fuzzed-out guitar and swirling Hammond organ lines to dizzying effect. Adding to this dreamy welcome, and not for the first time tonight, is the liquid lightshow conjured by the inimitable Innerstrings, soaking the stage in a sea of red and purple as the larger-than-life lava lamp oozes across the backdrop. Holy Magick close out with 'Panic!' from their eponymous 2019 debut, a slower, breathier number that rings out leaving the crowd, and the SOURCE, simply wanting more.
Up next are Oh Mama, a totally tripped-out, prog-folk revivalist five-piece from East Sussex who describe their sound as "shuddering fuzz, dazzling licks and shimmering screams of mayhem and grace" – a few songs in and that sounds about right. Vocal, guitar and flute duties are shared between barefooted frontwomen, Beth Lees and Ella Russell, whose striking vocal range – both individually and in harmony – helps to lure in the swelling crowd with their spaced-out dancing – not to mention their shouts, yelps, screams and chants that are of the freakiest kind. Backed by a tight rhythm section and Max Gibson's wailing wah-wah guitarwork, Oh Mama crank it up with each extraordinary, evolving number. Highly entertaining and not to be missed if you have been looking for the third Summer of Love. FFO: Jefferson, Goat, Air (no, not French spacepop Air).
Keeping the vibe going in between bands are local heroes Acid Box DJs, who treat the audience to choice loud cuts from their extensive swamp and psych record box – covering King Gizzard, L'Epee, Night Beats and more. A rare silence is interrupted swiftly by a swell of electronics as the silhouette of Martin Jenkins, aka Pye Corner Audio, announces himself to us – I say announce with more than a dose of irony, as Jenkins is hardly Calvin Harris up there, arms outstretched in a Jesus pose. Quite the contrary – with head down, cap-over-face, PCA is working on what looks to be a relatively minimal setup that nonetheless carries and evokes the brooding atmospheric soundtracks of John Carpenter and 'Phaedra'-era Tangerine Dream. That's not to say that Jenkins does not have his own sound, as any PCA disciple will be well aware of his extensive and original output under various aliases.
Once again, combined with the pastoral polychrome of Innerstrings' lightshow, this particular performance takes on a life and journey of its own, using footage from walks taken on the South Downs. A sense of awe is etched on the face of audience members throughout the venue, entranced by the warming late-day sun spectacle as it skitters around the backdrop juxtaposed with the menacing and bubbling electronic synth soundtrack. A slow, pounding kick drum fully brings this experience to a climax and you start to wonder where the last half hour has gone. Truly mesmerising stuff, with sound and vision in perfect harmony.
The night is closing in and the audience seizes this moment for a quick breather, either to the bar for a Harvey's or out into the courtyard for a crafty smoke. It's not long however, until Japanese Television (great name) takes to the stage as sub-headliners. A new-ish London four-piece, who bill themselves as the "UK's no.2 space-surf band" (any guesses on no.1?), launch into a raft of repetitive (in the best way) New Wave instrumentals that evoke Dick Dale playing lead for The Cure; a strong combination, we're sure you'll agree.
The watertight JT thunder through 'Bruno's Nightmare', which sounds like an amped-up cover version of the Joe 90 theme, and leaving the best 'til last, treat us with surf-psych fan favourites 'Crocodile Dentist' and 'Tick Tock'. Haunted, heavy and hypnotic, Japanese Television are no strangers to the scene – formed from the ashes of three defunct psych-rock outfits – but nonetheless remain a fresh prospect for British psych.
On the subject of television, tonight's headliners derive more from the early morning variety – word on the street is that TVAM has been held up and may not make the show, though it is not a case of having been lost in the small hours that mean the band almost doesn't arrive in time for their set; you can blame Southern Fail for that one. TVAM eventually takes to the stage in heroic fashion with full band and trusty VHS combi displaying warped lo-fi, exploitation-esque imagery; Innerstrings taking a more-than-deserved break from visual proceedings for the final blowout. The nervy synth-bass of 'Psychic Data' whirrs into action to a cacophony of feedback and TVAM take off, much to the appreciation of the now-packed-out All Saints Centre. Joe Oxley is not your typical rockstar – all waiflike behind his yellow Fender Jag, uttering spooky vocals from beyond the grave  – but he certainly commands a presence, throwing himself about, launching into blistering, reverb-heavy guitar. It's powerful stuff and the band burn through monsters such as 'Narcissus', 'Bitplain' and 'Porsche Majeure' – already classics to this writer who has long waited to see this juggernaut of a live show; TVAM do not disappoint. Finishing on colossal driving album closer, 'Total Immersion', the band are a fitting end to an arresting and totally immersive evening.
Spread over two days and three venues, with earlier performances from the likes of Vanishing Twin, Wax Machine and Hattie Cooke, there is nothing quite like Lewes Psychedelic Festival. Senses (and eardrums) well and truly blown, full credit is due to both Anna at Melting Vinyl and Innerstrings for delivering on their promise of a mind-bending sonic and sensory spectacular. It's one thing to know your audience, but another to keep pushing the boundaries and delivering a fresh experience year after year. We suspect it is this combination that brings the devoted psych tribe coming back to Lewes for more, 11 years on.
All we can say is – see you in January, pyschonauts.
All Saint's Centre, Lewes, Saturday 18th January 2020
Words by Christian T Häggqvist
Photos by Matt Knight