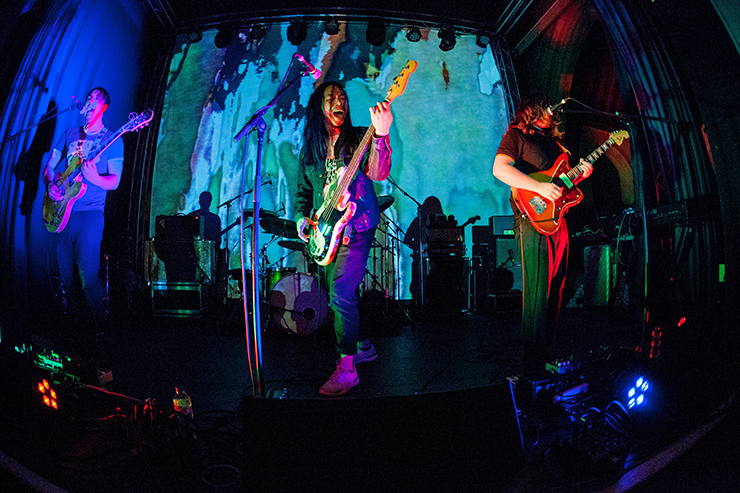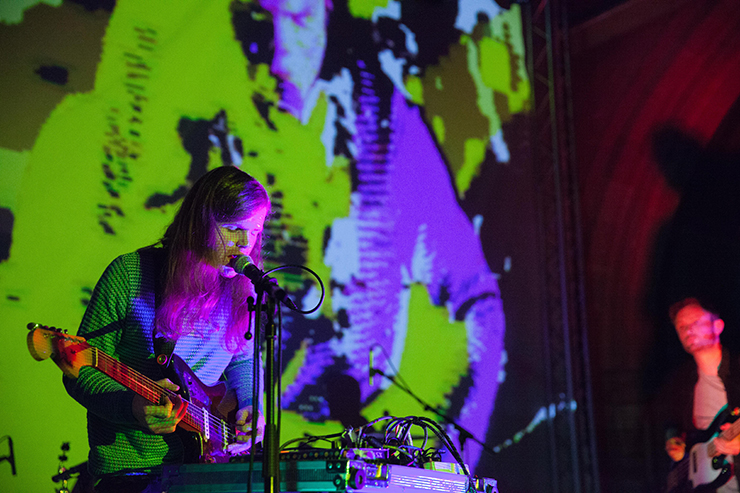 It's a balmy February afternoon in Lewes. The light is fading, a homeless piper is piping on the bridge and if you look closely you'll notice an unusual number of plaid jackets and lank haircuts – that's right! The psych fest is about to start.
Past the gravestones and into the church, the vaulted ceiling is shifting and teeming with Innerstrings' liquid projections (we count 16 projectors on the walls alone) and a heavy kraut beat, courtesy of Acid Box DJs, fills the room. As Gee of AK/DK later remarks: "I never knew God was so psychedelic".
The room is still half-empty as two-piece Rokurokubi take to the stage and begin with a squall of slide guitar. They look a little like a fairie queen and a conjuror, and their sound too is a dichotomy, half chaos and half peace. There is something childlike and very British-sounding in singer and drummer Rose Dutton's voice – Syd Barrett meets Sandy Denny – and it's offset well by the brutal swells of feedback and noise. Mid-set the guitar player grabs a bouzouki and lulls us into a false sense of security. Fuzz bouzouki is a thing. Fuzz bouzouki should be more of a thing. During a dramatic pause the crowd claps, Rose shushes them and then hisses, "Alice, it has to be you…" The mystical sound of Rokurokubi has been a pitch-perfect opener that chimes with the archaic setting.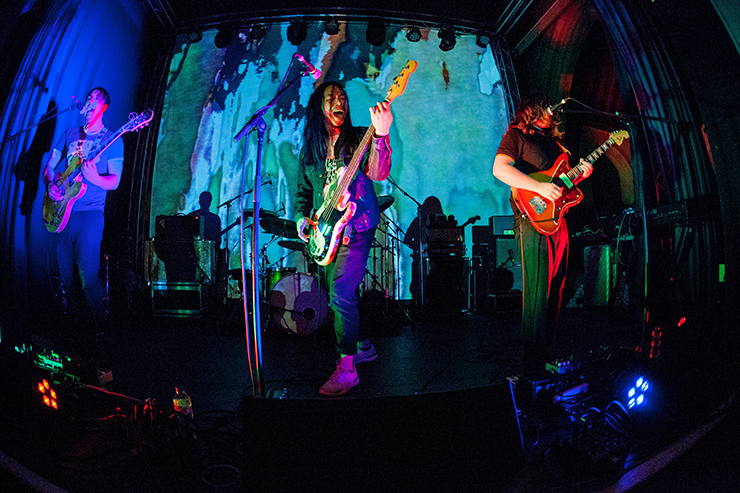 Swedish Death Candy have come to shatter any residual somnolence. They are from London and, I was surprised to learn (them be wildly contorted guitars, not synths!), a four-piece. If you think of King Gizzard or Sabbath at their most stoned you'd be in the right territory. Bassist Jiwoon Wang owns the centre stage, getting low in the power stance, ripping finger-style bass in the backwards crab. The air is a soup of riffs and reverb and a man in an Om shirt has started handing out glowsticks. The crowd is warming. For us, the standout tunes include the heavy pop of 'Love You Already', from their excellent self-titled second album, and 15-minute closing epic 'So Long'.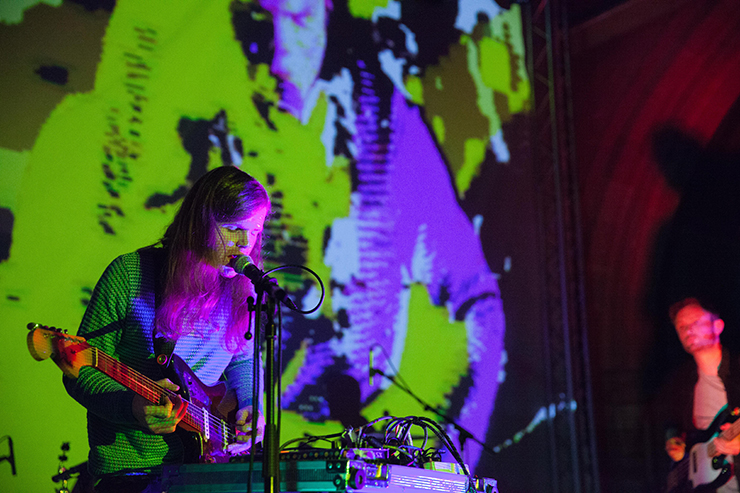 A rolling arpeggio. A beat which someone-who-is-not-a-drummer is going to call a samba. A slicing mesmeric vocal. Brighton's own Speak Galactic are taking us on a journey: there will be cascading 8-bit synths, impeccable drumming and grooving bass. Owen Thomas, who started the band as a bedroom project, cranes over his synth, sings through a vocoder and occasionally strums the guitar around his neck. He looks very much like he's still in his bedroom. We mean this as a compliment: the movement is in the music. Things fizz and grain, but beneath that there is something choral and transcendent. It could be described as psychedelic, but it's in no way retrospective. The crowd goes (appropriately) wild.
The Soundcarriers come on and unassumingly introduce themselves. There's an r'n'b, Motown influence to their rhythm section. There are vocal harmonies and a gently trippy guitar and organ. There's also – as the title of their brilliant 2014 record 'Entropicalia' suggests – a tropicalia influence. Like The Greenhorns on holiday. The live sound seems slightly stripped-back and whilst their brand of psych is not exactly a surprise it is beautifully executed. Presently, Leonore Wheatley's Manzarek-esque organ and Innerstrings' visuals coalesce: we are drifting through butterflies and hearts and blood cells and outer space and The Soundcarriers are carrying us.
Before AK/DK play a note you can tell they're going to be different. There are two drum kits at the front of the stage, one illuminated blue and one green. Between them is a bank of synths with more wires than a coma patient. Something modular lurks at the back. First comes a churning wall of electronic noise and stray bleeps, next comes squelchy, rubbery bass. And then comes the drums.
The tempo builds to a drop which has the crowd properly moving for first time in the evening. We confess, we had listened to AK/DK's new album 'Patterns/Harmonics' (which was 6 Music's Album Of The Day) and we liked it. It's great, in fact. However. It did not prepare us for the live show. The songs are longer, ten-minute cycles, and overall it's closer to a DJ set than a gig. By the end people that look like they came from a PTA meeting are in an ale-fuelled mosh pit and someone is crowd surfing. It's a thunderous and cathartic end to a wonderfully curated evening of psych, past and future.
All Saints Centre, Saturday 9th February 2019
Words by Rowan Reddington
Photos by Matt Knight