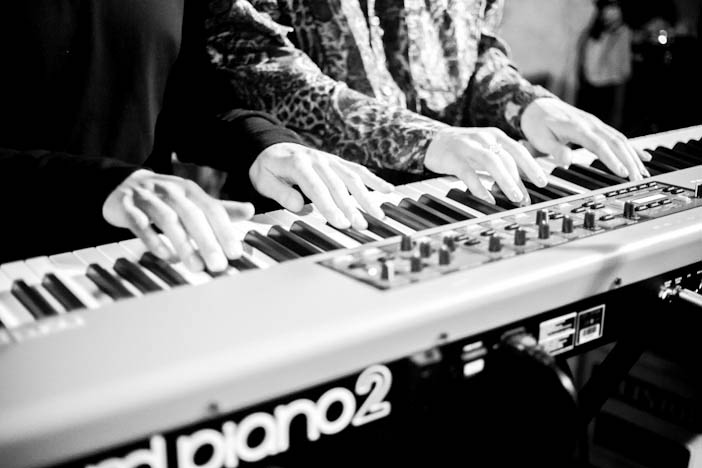 Earlier in the year, YouTube rejected an ad for Perfume Genius' second album 'Put Your Back N 2 It' for its 'non family safe' shots of songwriter Mike Hadreas in an underwear embrace with porn actor Arpad Miklos. The attendant press attention may only have been brief had it not been for the blogging of avowed fan, Michael Stipe.
While castigating YouTube for their "dumbheaded discrimination", Stipe highlighted Perfume Genius' "beautiful and amazing record… a stunning second album and achievement". Ears were pricked, and tonight offers many of the band's more recent converts their first chance to see them in the flesh (May's Great Escape show in St Mary's Church notwithstanding). As such, the Green Door Store is sold out, with hopeful latecomers failing to gain entry to the candlelit performance.
As the room fills we're squeezed up against the yard doors, which unexpectedly open for Perfume Genius to slip shyly through the crowd to the stage. Seated at an electric piano, Hadreas starts playing the new album's sorrowful opening song, 'Awol Marine'. His trembling vocals, close-miked on record, are an indistinct blur near the speakers, so we step back through the audience, sacrificing our view of the band in favour of picking up his voice with more clarity.
Speaking of Stipe, the tone of Hadreas' voice occasionally recalls the R.E.M. singer at his most naked, while the slow mesh of keyboards and sparse drums summons Twin Peaks spectres. Whether dealing with his own troubled upbringing or other people's, Perfume Genius' apparently desolate songs always seem to contain grains of optimism, and Hadreas' confidence grows with each rush of applause that greets them.
Perfume Genius' most vulnerable, personal songs, 'Dark Parts' and 'All Waters' especially, seem to resonate most with the crowd, although unexpectedly it's the portrait of child killer Mary Bell ('Look Out, Look Out') that haunts us after. We get to hear the heavenly new song 'Rusty Chains' and a couple of covers (the Neil Young standard 'Helpless' and, more surprisingly, Madonna's 'Oh Father') before the band draw to a close. It's still early, but after a quick encore of 'Gay Angels' and (another new song) 'Katie', Perfume Genius are done, and out into the night. Hopefully, when they return in the autumn, they'll stick around a little longer.
Green Door Store, Friday 13th July 2012
Words by Stuart Huggett
Photos by Emma Jeffery