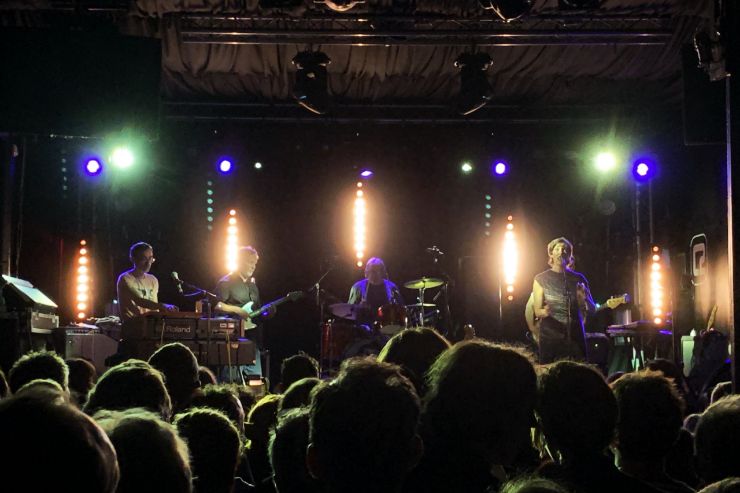 Well, here we are again. When Anglo-French pop groop Stereolab went on hiatus in 2009, it felt like a shame if not a surprise. Nearly two decades of increasingly complex musical fusions, from fifties exotica to noughties electronica and all points in between, had seen their popularity peak years before, the later albums in their mammoth discography (such as 2006's album-of-singles 'Fab Four Suture' and 2008's swansong proper 'Chemical Chords') making little impact. The band would play the Concorde 2 on every tour and while the line-up would change and the songs would always be puzzling and new, career-wise they had reached a standstill.
After ten years away, it's kind of funny that Stereolab end up running late this evening, thanks, apparently, to a broken down tour van in France. Sure it's frustrating for them to miss their soundcheck but the sight of the group's more fetishistic fans reacting to the consequent absence of a merch stand before the show with something approaching mild panic illustrates the irony that was always there in Stereolab: they were a band with Marxist roots and lyrics highly critical of capitalism but also one who were over-productive in their output of covetable, limited vinyl, cute t-shirts and novelty souvenirs (mugs, jigsaws, sliding-piece puzzles). Admittedly we were once as guilty as anyone of pursuing these obscure objects of desire and loved that we used to have to send off to an address in glamorous Horsham to get them
With a major reissue campaign underway and many months of European festivals and North American tour dates ahead, we're undecided at this early stage if Stereolab have simply reformed for the money. It's still a thrill when the crowd spots 'Lab mainstays Laetitia Sadier and Tim Gane setting up their own gear long before stage-time however, no team of roadies or, indeed, reliable tour buses on the payroll here.
Stereolab start low-key with the dreamy 'Come And Play In The Milky Night' (from our favourite of their numerous albums, 1999's 'Cobra And Phases Group…'), the reformed band now including long-serving drummer Andy Ramsay, bassist Xavi Muñoz from Sadier's post-'Lab live group and Brighton keyboardist Joe Watson ("It's true, we have a local hero in our band" Sadier smiles). Tonight, Muñoz and Watson supply the vocal accompaniments once filled by a succession of Stereolab women, most notably the late and much-missed Mary Hansen: we now remember a 2004 'Lab show at the Concorde 2 when, poignantly, the band simply left gaps where her singing would have been, present in her absence.
It's an almost completely career-spanning set tonight, including cult singles 'French Disko', taken at a rapid pace with Gane's one-note guitar solo ringing out; 'Miss Modular', the brass of the original replaced by Sadier's squelching synth; and their biggest hit (only Number 45 but it helped make them regulars on The Chart Show) 'Ping Pong'. Stereolab's reputation for heads down, no nonsense, mindless Moogie comes to the fore on lengthy excursions through the self-descriptive brilliance of 'Metronomic Underground' and an epic closing version of lone Sub Pop single and High Fidelity plot device 'Lo Boob Oscillator'. "Now we can see your faces," says Sadier as the lights shine on the loyal but ageing crowd, "How time flies."
A cautious encore begins with the gentle 'Infinity Girl' leading into a hypnotic, trancelike 'Blue Milk', before a quick, unplanned rush through early 7" 'John Cage Bubblegum'. It was a treat to have them back at last, in good humour, their old songs given new arrangements, with less of the polish that made their glassy, late-period music that much harder to love. There's a long touring road ahead and maybe new experiments in sound will emerge in time. If not, Stereolab still have one of the most dense, diverse back catalogues in alternative pop to rediscover.
Concorde 2, Tuesday 11th June 2019
Words by Stuart Huggett
Photo by Rob Orchard