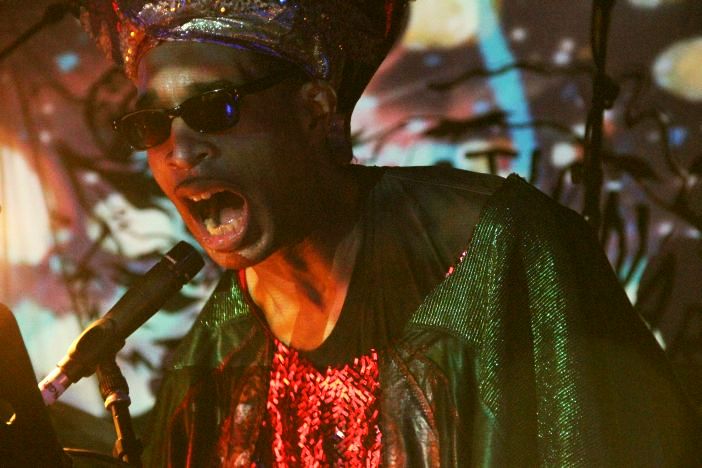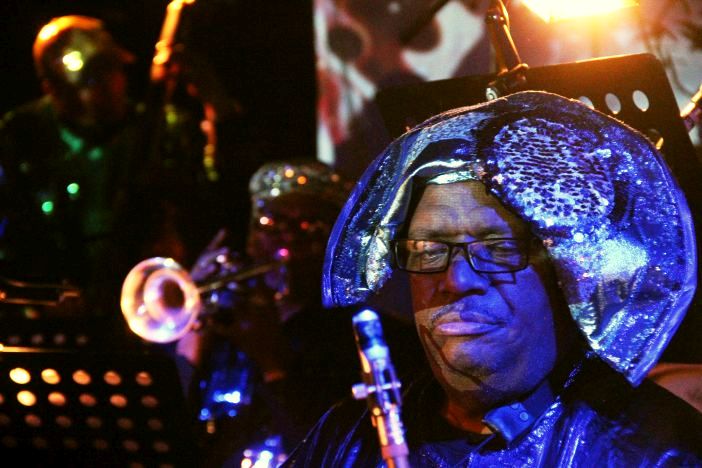 The Sun Ra Arkestra descended on Lewes last week for a three-night residency at the Con Club thanks to Brighton promoters Dictionary Pudding and the Brighton Alternative Jazz Festival.
The Arkestra, one of the legendary jazz groups, have been playing in a variety of formations since the 1950s. After their inspirational leader the pianist Sun Ra died in 1993 the Arkestra was led for a brief while by John Gilmore, and then since Gilmore's death in 1995 it has been led by the indomitable Marshall Allen, an extraordinary experimenter who has been playing wind instruments since the age of ten and is due to celebrate his 93rd birthday next month.
At the Con Club, there were about 15 members of all ages on stage although to be honest we lost count. From the word go there was a verve and a dynamism in the music that immediately entranced the audience – and the band did not let up for the whole evening in what was a dazzling display. Allen provided a guiding hand to the proceedings throughout, and led with some inspired free jazz, not only on his alto sax but also his fascinating early 1970s electronic instrument, the EVI.
Sun Ra and his arkestra were often regarded as avant-garde and esoteric, drawing on all manner of jazz frames and philosophical ideas (perhaps most famously the intergalactic in 'Space Is The Place') but to understand the Arkestra they need to be experienced live. Their two-and-a-half hour show encompassed a phenomenal range of music, from early Prohibition era jazz through to more futuristic new wave sounds, with a lot of big band, bebop and free jazz all piled into the mix. There were Latin interludes, dynamic solos and jungle rhythms too. The impression given is often one of brilliant mass-improvisation, but this was a tightly orchestrated and superbly thought-out and structured approach.
The thing about the Arkestra's music is that it embraces the avant-garde but it is not intrinsically avant-garde music. If 'Space Is The place' it's not because the Arkestra has its head in the stars, but rather that they are well-grounded, looking down on the whole history of jazz. Space is a sense of freedom, an open heart, a will to push boundaries. Their set in Lewes encompassed all forms and took the listener on a journey, free from any traditional sense of order or constraint. The point is, it is all in there, the whole of jazz. Viewing jazz from on high, much as someone on another planet might view the planet earth, but being very much a part of it.
Notwithstanding this Sun Ra cerebralism, the Arkestra's performance was fun from start to finish, including two escapades by a sub-section of the band where they paraded off the stage to join the audience. Special mentions go to Yahya Abdul-Majid in the front row who added intense dexterity to proceedings, the regal and omnipresent James Stewart on tenor and Tara Middleton whose vocals provided a perfect joyful balance to Marshall Allen's lead.
It was a brilliant achievement for the joint-promoters to bring a gig like this to Lewes, in the refreshingly cozy Con Club with a capacity of around 200 folk. The Arkestra sold out all three nights and they could have easily put on more. A memorable experience for everyone who managed to get there and hopefully one to be repeated.
Sun Ra Arkestra, Lewes Con Club, Wednesday 29th March 2017
Words and photos by Jon Southcoasting
(More pictures if you flick through the gallery at the top of this review)