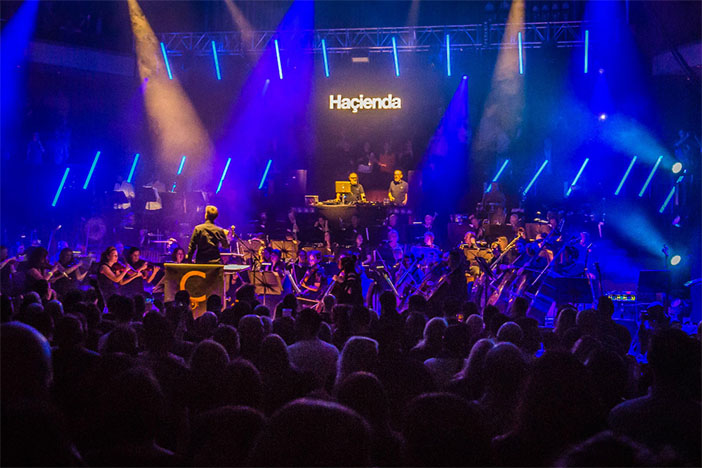 The Haçienda nightclub in Manchester became famous in the 'Madchester' years of the late 80s and early 90s for unlicensed, drug-fuelled raves and the rise of acid house, which married dance beats with a psychedelic, 60s flavour and drew parallels with the hedonism and freedom of the Summer of Love two decades earlier. Recreating the club classics of the 'Second Summer of Love' and adding a unique twist, Haçienda Classical fuses a full live orchestra, the Manchester Camerata, with the DJs who shaped The Haçienda's sound – Mike Pickering and Graeme Park.
With the 70-piece orchestra at the forefront, DJs Pickering and Park on decks above them, vocalists on the left and percussionists to the right, the stage was set at the Brighton Dome for some big sounds. Big sounds that only came intermittently in the event.
A lively crowd of ageing 80s children, wearing fluorescent flower garlands around their necks, created a tangibly upbeat atmosphere inside the Concert Hall. However, the first couple of tunes were barely audible, causing some grumblings around the venue. Thankfully the sound seemed to improve for the classic 90s dancefloor banger 'Ride On Time' as you've never heard it before. The conductor and musicians were clearly revelling in the music and nostalgia, almost as much as the joyful audience with arms flailing in the air and huge grins on their faces. People in the balconies were up off their seats and the whole place went 'mad for it'.
The hype man MC Tunes left a lot to be desired, possessing little stage presence and dodgy rapping skills, but the superb vocalists made up for it with their gospel rendition of Joe Smooth's 'Promised Land', sending the congregation into raptures and singing along with every word. Then Peter Hook appeared stage right with his bass guitar to riff out the Happy Mondays' anthem 'Step On', again encountering volume problems to the point that it took a while to recognise what was being played.
However, by the time the ensemble got to Armand Van Helden's house hit 'U Don't Know Me', the crowd was positively euphoric. There was only one possible signature hit left for the encore and sure enough, a fantastic version of Candi Staton's 'You Got The Love' left the jubilant crowd satiated, elated and transported back to a time when summers were full of love.
Brighton Dome, Friday 20th May 2016
Words by Emma Baker